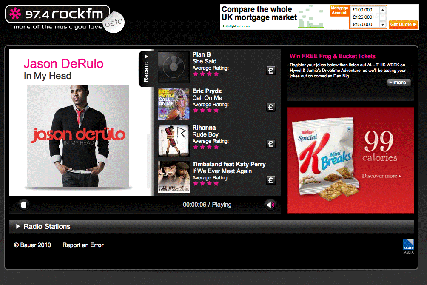 The new players are part of a major upgrade to Bauer Media's existing online streaming service and include the national Kiss, Magic and Kerrang! brands as well as regional stations in the Big City Network.

In addition to offering users a better audio experience through improved streaming quality, the player is easier to use and allows consumers to buy and share the music being played by Bauer Media radio stations.

The standard platform across 38 stations will allow brands to advertise across the national network, as well as being able to target individual stations with both complete skin ads and directional ads.

Bruce Mitchell, head of digital for Bauer Radio London, said: "The new player is a great step forward for Bauer Media's radio brands online. It provides an easy-to-use interface and, at the same time, offers music purchase right from within the player."

Users listening to Bauer Media radio stations through the new player will be able to click on affiliate links on the interface to buy a track currently being played by a station, through either iTunes or Amazon, or share the track through social network Facebook. Bauer Media will generate income through the affiliate links.

Ric Blaxill, head of music at Bauer Media's Big City Network, said: "We play over 10,000 songs a day across the Bauer Radio Network so offering music sales directly from our player is a great opportunity to both support the music industry and bring listeners closer to our playlist."

As the players are large format, they are able to serve both editorial video content and video ads, which Mitchell said Bauer Media is looking to develop.

Bauer Media is also involved in the UK Radioplayer project, an industry joint initiative to produce a single online player for all licensed radio stations in the UK.