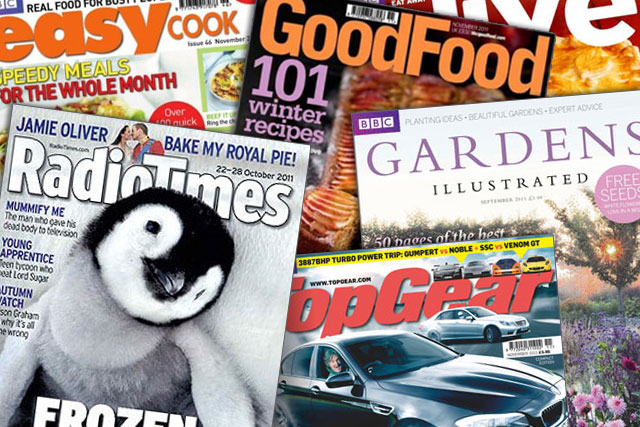 Provided there are no last-minute complications, it is expected that the deal will go through by the end of the month and all members of staff will become employees of the new company from 1 November.
Under the terms of the deal announced in August, Exponent will acquire all non-BBC-branded magazines in full, as well as rights to publish BBC-branded titles under licensing and contract publishing arrangements.
The 11 magazines Exponent is buying in their entirety include the TV listings magazine Radio Times (believed to be one of the most profitable), the food magazine Olive, and garden title Gardens Illustrated.
The £121m deal includes the sale of BBC Magazines' 50% shareholding in Indian joint venture Worldwide Media to joint venture partner, Indian media giant Bennett, Coleman & Co.
Media Week understands the Indian business makes up less than 10% of the £121m, valuing the UK magazines in excess of £100m.
Exponent is the owner of businesses as diverse as vegetarian food manufacturer Quorn, the West End Ambassador Theatre Group, bed shop Dreams and PR and journalist resource Gorkana.
The BBC's commercial arm, BBC Worldwide, will grant Exponent a 10-year licence to publish 18 BBC-branded magazines including Gardeners' World and BBC Wildlife.
A third category of four titles, Top Gear, Lonely Planet, Good Food and Easy Cook, will be retained by BBC Worldwide and will be published by Exponent under a contract lasting five years.
Exponent will also obtain BBC Magazine's stake in the subscriptions fulfilment business Dovetail, the distribution business Frontline, and full control of the specialist publisher Origin.
Exponent already owns two publishing companies – Magicalia, publisher of Practical Parenting and Pregnancy, and Golf Magic, and GTI, publisher of Target Jobs and the Careers Service Guide.
Details of the new Exponent-owned business that will employ BBC Magazines staff are expected to be confirmed in the coming weeks. It is expected that the majority of staff will be retained in the new entity.
In August, BBC Worldwide announced it was to set up a small in-house company, called the Magazine Unit, led by Nicholas Brett (currently deputy managing director of BBC Magazines), to be responsible for licensed and contracted titles.
Follow Maisie McCabe on Twitter @MaisieMcCabe