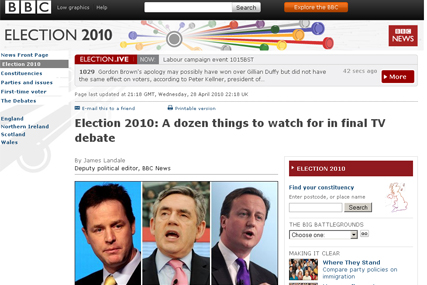 Visitors to the BBC website will be one click away from viewing the debate live as it takes prominence on the home page, while the news ticker will be taken over with updates focusing soley on coverage. The debate will be transcribed and fully indexed for reference.
The BBC election debates page has been specially designed for the occasion and will include a stream of comments and reactions from BBC correspondents next to the video.
Related tweets from the public and comments from the 'Have Your Say' blog will also be chosen and reposted too.
The 'worm' line of live positive/negative reaction, which ITV used to track the audience's sentiment for its streamed debates, will be a selectable option on the page.
Afterwards, using a newly developed application, the debates will be transcribed and sorted into 'chapters' so visitors to BBC News can catch up with different parts of the debate on demand.
The debate will be broadcast live on BBC One, BBC News and Radio 4, and also through the BBC News Facebook fan page.
Hosted by David Dimbleby and located in Birmingham, the debate runs from 8.30pm to 10pm.