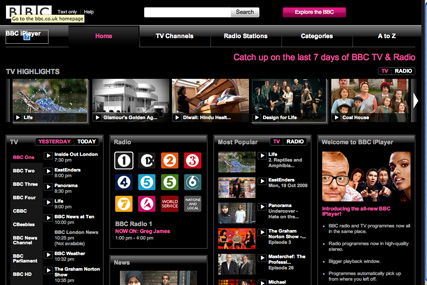 The proposal, known as Project Marquee, contained two key elements. First, the BBC wanted to form a so-called "federation" of public service broadcasters who could link their on-demand services to the iPlayer. It was envisaged that these links would drive traffic between the various PSB sites. The BBC also wanted to create a new VoD listings website to which all PSBs would link.
Secondly, the BBC would have made the BBC's iPlayer technology available to third parties on a commercial basis.
However, the BBC Trust has deemed the proposals "too complicated". It said it was not clear whether the proposal would increase public value for licence fee payers.
However, the Trust reiterated its support for the principle of sharing the iPlayer more widely, and said the BBC should find simpler ways of achieving this.
Diane Coyle, BBC Trustee, said the Trust was "not convinced there was enough potential value to licenCe fee payers in the public service part of the proposal, and we have therefore rejected the BBC Executive's proposals for an open iPlayer federation."
Project Marquee is one of several partnership proposals being pursued by the BBC, as it looks to work with the wider media industry. Among other plans, the BBC is working with ITV on sharing newsgathering facilities across the country.