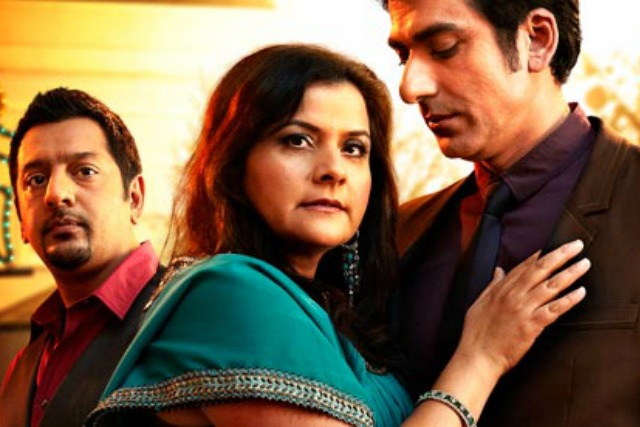 Despite the increased competition from ITV, 'EastEnders' was once again the most-watched programme on Christmas Day, attracting an average audience of 9.9 million between 9pm and 10pm.
Known for its gritty and downbeat storylines, this year's 'EastEnders' focused on its Asian family, Masood, and a plot around physical and mental, domestic abuse.
According to unofficial overnights, the last 15 minutes of the soap's one hour special was watched by 10.2 million people, the only TV moment to attract double-digit millions this year.
However, ITV has closed the gap in viewing share with the public broadcaster, totalling 29.7% of peak viewing, its best for Christmas Day since 2004, and up from 22.1% share in 2010.
The gap of with 1.4 share points between BBC One and ITV1, with 29.7% to 31.1% respectively, was reported by the commercial broadcaster to be the smallest "for at least a decade".
ITV's 'Coronation Street' was watched by an average audience of 9.0 million viewers (9.3 million including ITV1+1), representing a 34% share of viewing and making it the second most watched television programme on Christmas Day.

Much of the Street's Christmas storyline was based around the pending Wedding, and all it entails, of same-sex couple Sophie Webster and Sian Powers.
ITV's much anticipated Christmas special from 'Downton Abbey' averaged 8.1 million (8.6 million including ITV1+1), representing a 31% share of viewing and making it the fourth most watched programme on Christmas 2011.
Earlier in the evening, ITV's 'Emmerdale' was watched by an average of 6.2 million (6.7 million including ITV1+1), a 29% share.
An ITV spokesman said: "We're delighted that so many viewers enjoyed ITV1's Christmas day schedule, including events from 'Downton Abbey', 'Coronation Street' and 'Emmerdale'. It's a terrific achievement for ITV1 to have recorded its best peak time Christmas performance since 2004."
Channel 4's most popular Christmas programme was its cartoon, 'Ice Age: Dawn of the Dinosaurs', which aired between 7.15pm – 9pm and attracted 2.2 million viewers, an 8% share.
Richard Desmond's newly revitalised Channel 5 failed to make a splash this Christmas, with all of its programmes attracting less than one million people. A rerun of the 2010 film 'The Santa Suit', and a special of its regular observational documentary 'Eddie Stobart: Trucks, Trailers and Tinsel', each attracted an average audience of 700,000 viewers.
Top 10 shows on Christmas Day (average audience)
EastEnders, BBC One 9pm-10pm (9.9m)
Coronation Street, ITV1 8pm-9pm (9.0m)
Doctor Who, BBC One 7pm-8pm (8.9m)
Downton Abbey, ITV1 9pm-11pm (8.1m)
Strictly Come Dancing, BBC One 8pm-9pm (7.5m)
Absolutely Fabulous, BBC One 10pm-11pm (7.4m)
The Gruffalo's Child, BBC One 6.30pm-7pm (6.5m)
Michael McIntyre's Christmas Roadshow, 10.30pm-11.30pm BBC One (6.4m)
The Queen's Speech, BBC One 3pm-3.10pm (6.3m)
Emmerdale, ITV1 6pm – 7pm (6.2m)
Based on unofficial overnights, time-shifted viewing not included.