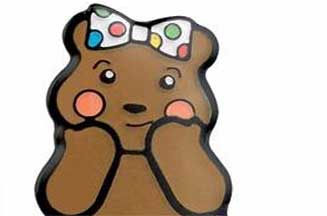 Blush Bear is being presented as a friend for the fund-raising drive's long-standing brand character Pudsey Bear. The charity said Blush was designed to increase its appeal and attract corporate partners.
Pudsey Bear made his first appearance in 1985. He is now Children in Need's official logo and a registered trademark.
In 2007, the charity tasked agency Fallon London with relaunching the mascot. Pudsey was modernised to work online in animated poses. He was also given a range of multicoloured eye patches.
This year's Children in Need event takes place on Friday. The 2008 appeal raised a total of £38m, a record-breaking sum for the charity.