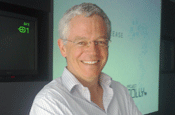 Maile was recruited by the founders of BBH in 1982 and is credited with engineering the sale of 49 per cent of the agency's ownership to the Publicis Groupe in 1997, in what was described by some as "the deal of the century".

Maile is leaving to take a three month sabbatical before returning to the agency to work part-time on special projects.

David Pearce, the global deputy chief financial officer at HIT Entertainment, will replace him.

Simon Sherwood, the group chief executive of BBH, said: "Throughout his career here, Nigel has remained one of the most savvy, intelligent, positive and completely straightforward people you could ever meet."
"No-one embodies more completely the 'good and nice' qualities we so admire."