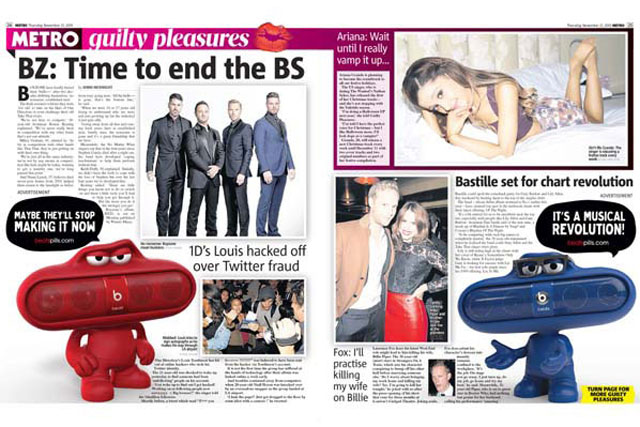 Upcoming activity includes scripts based around the Ashes cricket series, the release of 'Anchorman 2', and interviews with celebrities including Rio Ferdinand, Lukas Podolski, and the DJ Benga.
The aim of the campaign is to create "contextual advertising" rather than pushing out a message that is "the same every day".
Beats by Dre's strategy is to be relevant to what is happening and entering the fabric of content people are already consuming, to make advertising as least disruptive as possible.
Alongside celebrity interviews including one with Tinie Tempah, the brand is also sending out packs to influencers including One Direction, which include Beats products and T-shirts with bespoke messages on them.
Beats is hoping the artists will share pictures of the personalised T-shirts on social media and will wear them during gigs.
The company has also partnered with the Metro newspaper as part of a deal that features the Guilty Pleasures celebrity gossip editorial team sharing four stories with the Beats creative team, so the Pills characters can provide commentary on the stories that appear in the paper the next day.
Beats has also localised the Pills launch TV ad for the UK by replacing the Chris Rock and Eminem voiceovers with voiceovers from Mike Skinner and Jordan from Rizzle Kicks.
Beats worked with agencies including R/GA London, We Are Social, Devries Slam and Mediacom for the campaign.