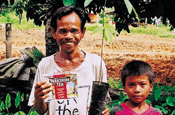 The appointment draws the Manchester-based incumbent Love Creative's three-year relationship with the tea brand to a close. It is understood that Love was involved in the early stages of the pitch.

BMB will take responsibility for print, TV and outdoor advertising across the Yorkshire Tea, Yorkshire Gold and Yorkshire Tea for Hard Water brands.

The agency plans to launch its first TV commercial for Yorkshire Tea at the beginning of next year.

The campaign will seek to move the range away from its regional positioning and turn it into a national "power" brand.