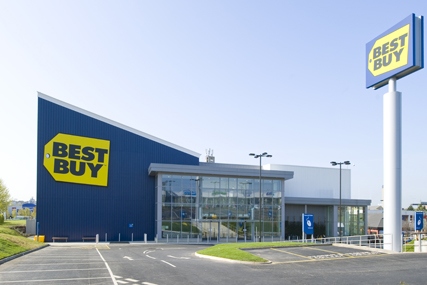 Best Buy opened 11 electrical stores in the UK but they failed to establish themselves in the highly competitive electrical retail sector. Financial results released today (7 November) reveal it lost £46.7m in the past year.
A spokesman for the Carphone Warehouse said it is likely that 70% of its 1,100 employees affected would be employed within the Carphone Warehouse business.
The 11 shops are expected to close by the end of the year.
The US electrical giant opened its first store in the UK in May 2010, in an effort to pinch market share from rivals such as Comet.
Its first shop opened in Thurrock, Essex, followed by stores in Southampton, Liverpool and Merry Hill in the West Midlands.
The closure of the UK stores marks a major retreat from Best Buy, which first announced its intention to enter the UK market with the £1.1bn acquisition of 50% of the Carphone Warehouse retail division in 2008.
Carphone Warehouse said that its joint venture with Best Buy would continue in Europe, but would focus on selling Best Buy products through Carphone Warehouse retail outlets.
In another significant move by Carphone Warehouse, the UK phone retailer today announced it is to sell its stake in a Best Buy joint venture in the US and Canada to Best Buy for £838m.
The axing of the UK stores comes as Best Buy UK reported a loss of £46.7m, according to its financial results.
Follow John Reynolds on Twitter @johnreynolds10