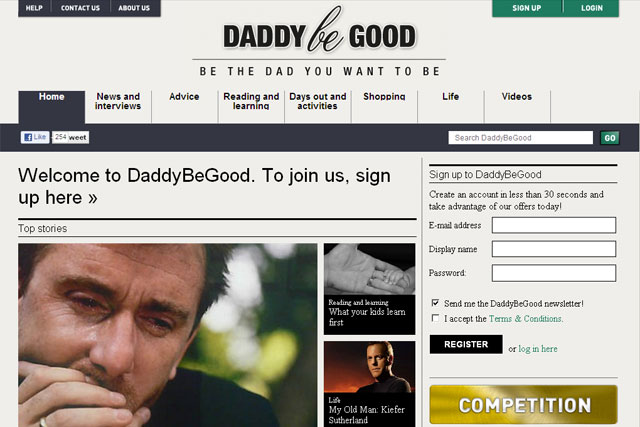 DaddyBeGood's content appears to have been last updated on 7 February and the brand's Twitter account has not been active since 27 February.
The site's launch editor, Ed Owen, left the agency earlier this year.
Beta launched the online community website in June 2011 in a bid to tap into the historically hard-to-segment audience of dads.
Launch partners included Cineworld and Aquafresh, and its arrival was supported by print ads fronted by cricketer Freddie Flintoff, along with radio activity.

A spokesman for Beta said there were no plans to directly replace editor Ed Owen, formerly of Brand Republic, but stressed the site was still live and continues to be an ongoing concern.
The agency, run by Garry Lace and Robert Campbell, had hoped DaddyBeGood would become the male equivalent of the successful mums' community sites, such as Mumsnet and netmums.
The launch was grounded in research that found 82% of fathers in full-time employment wanted to play a larger role in bringing up their children and wanted advice on how best to connect with them.
Unlike mums, marketers and publishers have traditionally found it hard to define and target men based on their role as dads.
It came on the back of Beta's debut launch into publishing with the over-50s portal high50, which continues to operate under the editorship of Tim Willis.
DaddyBeGood's current content ranges from practical advice and tools for parenting, to activities, celebrity interviews and promotions, although its competition section is currently not active.
Lace told Media Week that after weeks of consultation, which have included taking advice and soundings from former Loaded editor James Brown, the agency plans to reposition DaddyBeGood around a stronger e-commerce model.
Lace said: "We are changing the nature of the business and the primary focus of the content will be placed on kids and learning, and how to help nurture children's love of learning.
"We still believe in our founding basic premise that dads need help, but we need to focus on a model that enables us to better monetise that content."
Practical academic sites such as StuckonHomework, which also sell relevant text books and other learning services in addition to content, are likely to inspire DaddyBeGood's future look and feel.
Follow Arif Durrani on Twitter @DurraniMix