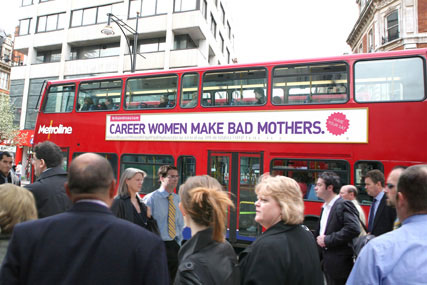 Justine Roberts, co-founder and managing director of Mumsnet, which attracts more than 1.2 million unique users, told Media Week yesterday she had received legal threats from agency Beta, founded by Garry Lace and Robert Campbell last year, concerning comments posted by its online community.
Roberts said: "Mumsnet has received a legal letter on behalf of the founding partner of the agency who tells me he wants to be compensated for the 'hurt, corporate loss and reputational damage' suffered."
At 10pm last night Beta used its blog on the Campaign website in an attempt to draw a line under the issue, apologising for any offence caused by the campaign and saying offending comments on Mumsnet had now been deleted.
The blog said Beta had only asked Mumsnet to "operate within their own editorial guidelines which they now are doing".
Speaking to Media Week this morning Lace said: "We noticed on Tuesday that there were many posts on the site that were defamatory and personal in nature, which is in breach of Mumsnet's own terms and conditions.
"Having written to them to alert them to this, they have now removed more than 80 posts from their site, for which we're very grateful. We hope that this is the end of the matter."
Lace said he hasn't ruled out renewing his attempts to claim compensation if Beta feels further damaging remarks are made via the Mumsnet community and no action is taken to remove them.
The fallout follows the Outdoor Advertising Association's decision to pull some of the ads involved in its £1.25m campaign to promote the power of outdoor advertising this week, after a concerted internet backlash, led by the Mumsnet community.
Roberts said: "Obviously our members thought it was a crass and stupid campaign. Many members were hurt seeing in large letters that their choice in life meant they were bad mothers. As a result they organised a rapid and fairly successful campaign to get it removed."
The controversial ads were scrapped by the OAA on Wednesday and are currently being replaced by the campaign's two other slogans "Educashun isn't working" and "1966: it won't happen this year".
The OAA, which represents all major out-of-home media owners in the UK apologised on Wednesday for the marketing push and said in a statement it regretted "any misunderstanding that led to feelings of offence on the part of members of the Mumsnet community".
Following the initial story of the campaign, the thread on the Mumsnet site alone had more than 950 irate responses, and counting, and its members were being urged to complain not only to the OAA and the advertising watchdog ASA, but also to Beta and the agency's other clients.

Read more on Brand Republic