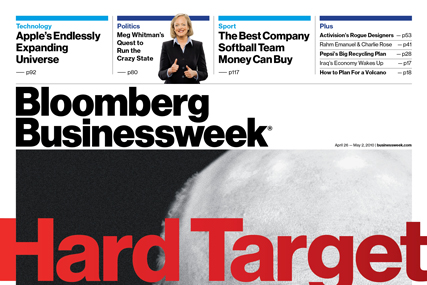 The revamped weekly magazine follows Businessweek's acquisition by Bloomberg in December and includes a new masthead with space to promote up to 10 stories inside the magazine.
Available on newsstands from tomorrow (23 April), the new Bloomberg Businessweek includes small colour cues for each section and begins with Opening Remarks, a commentary on one of the week's most important stories.

This is followed by three departments: Sections department, driven by news; Features, which includes deeply-reported stories and investigations; and Etc., which includes coverage of the workplace and life away from it.
The front of the book remains news-led, offering a comprehensive look at Global Economics, Companies & Industries, Politics & Policy, Technology and Markets & Finance.
The cover story of the relaunch issue features two stories on Goldman Sachs: Jonathan Weil looks at why Goldman is easy to hate and tough to excuse; and renowned author and columnist Michael Lewis explores what the SEC investigation changes for traders on Wall Street.
Bloomberg editor-in-chief Matthew Winkler said: "Under Editor Josh Tyrangiel's leadership, the new magazine will build upon Businessweek's tradition of smart, insightful journalism, coupling it with the depth and breadth of Bloomberg News."

Bloomberg president Paul Bascobert added: "Our goal with the relaunch is to create an indispensable business magazine for global decision makers and an engaging platform for advertisers."
"To deliver that, we're investing in the product while other magazines are retrenching, and we're offering readers more—more stories, more pages, more issues, and more global perspective. I like to think of this as first issue of the last business magazine you'll ever need."

BusinessWeek was first published in 1929 but found itself unsustainable in its current form under McGraw-Hill following the financial crisis.

Bloomberg acquired the magazine at the end of last year with the intention of using it to promote the company's name around the world while attempting to challenge The Economist.
The deal also represented a significant shift by Bloomberg into a more consumer-focused media and following the move Daniel L. Doctoroff, president of Bloomberg LP, said: "We couldn't be more excited…We are not buying BusinessWeek to gut it. We are buying it to build it."
Drawing on 1,700 journalists in 146 bureaus across 72 countries, Bloomberg Businessweek claims to command a readership of more than 4.7 million readers each week in 140 countries.