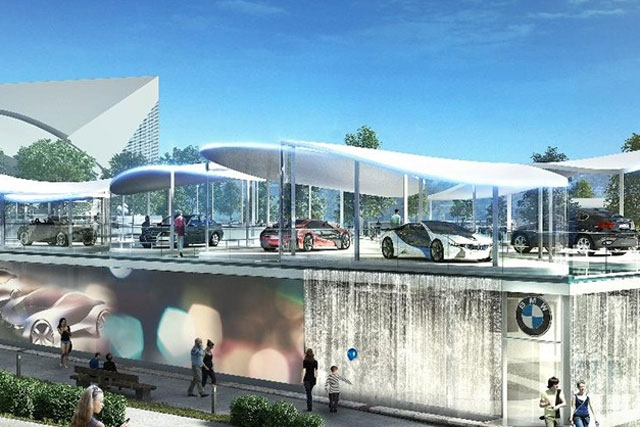 BMW is providing 4,000 vehicles to transport athletes and officials during this year's Olympics.
The 800sqm two-storey venue will be positioned on columns above the Waterworks river, situated between the Olympic Stadium and the Aquatics Centre.
The British architecture firm Serie won the competition to design the structure. Its plans have been unveiled with less than 170 days to go until the Olympics.
The showroom- which is in the process of being built- will be made from steel and recycled content to showcase BMW's environmental credentials.
The showroom will be cooled by filtered river water.
The top floor of the showroom will house BMW's eco-friendly vehicles, while the ground floor will house interactive exhibits which focus on the company's sustainable initiatives.
BMW is predicting more than 8,000 visitors a day to its showroom.
BMW has come in for criticism regarding the potential environmental impact of the thousands of cars it its providing for dignitaries and official during the Olympics.
Follow John Reynolds on Twitter @johnreynolds10