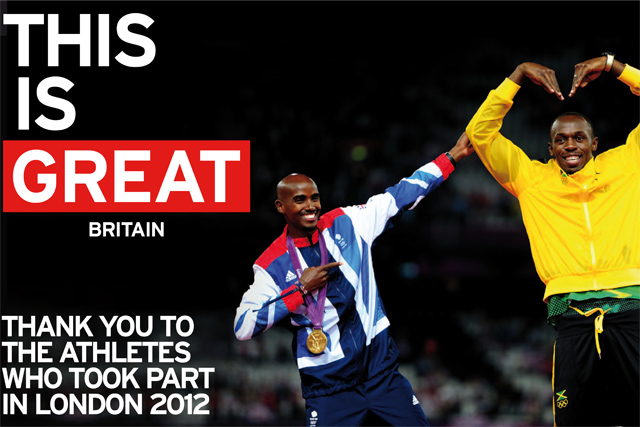 The ads, released by the Department for Culture Media and Sport today (15 August), have been created by Mother and Radley Yeldar and will run for two weeks across 500 outdoor spaces across UK train stations, donated by Network Rail.
The first of the two executions shows the Olympic rings from the Opening Ceremony, with text reading: "This is GREAT Britain. Thank you to everyone who took part in London 2012."
The second execution features British gold medallist Mo Farah imitating world record holder Usain Bolt's signature arm gesture, next to Bolt imitating Farah's 'Mobot' celebration.
Supporting text reads: "Thank you to the athletes who took part in London 2012."
Jeremy Hunt, secretary of state for culture, Olympics, media and sport, said: "The last three weeks have been a proud moment for Britain. It has been a privilege to stage the Olympics for the third time.
"We would like to say thank you to everyone who has helped make these Games truly great – in particular the athletes from around the world, the volunteers and the British public.
"They have shown the best of Britain to the world and left us with memories that will last a lifetime."
Yesterday Hunt pledged an extra £8m to tourism body VisitBritain in order to promote the UK to China, as part of the 'GREAT' campaign.
Follow @loullamae_es