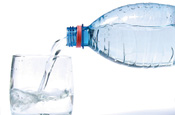 The NHC has been created to research and promote the environmental and health benefits of bottled water, and its three founders have control of the most prominent bottled-water brands in the UK: Nestle owns Buxton and Vittel, while Danone owns Volvic and Evian.
One soft-drinks insider poured scorn on the move to create a separate organisation to the British Soft Drinks Association (BSDA)'s Bottled Water Information Office. The latter was disbanded after the formation of the NHC.
'They can hardly claim to offer an industry-wide perspective, even if they are the largest individual players,' said the insider.
The source also claimed that the BSDA's leadership had been annoyed by the launch of the NHC, although a spokesman denied this, describing it as 'a natural progression'.
Coca-Cola GB, which owns the Malvern brand, has also joined the NHC, but has not made the same level of investment as the founding members, who each contributed £100,000.
Jeremy Clarke, the director of the NHC, said it had been established independently to allow non-BSDA members the chance to join, adding: 'We are an alliance; an open church.'
He claimed that the NHC would run a positive campaign.
However, Nick Taylor, the general manager of premium bottled-water brand Ty Nant, supported the creation of the NHC, predicting that its independence from the BDSA meant it would aggressively target less healthy soft drinks. 'If they don't, it's a waste of time,' he said.