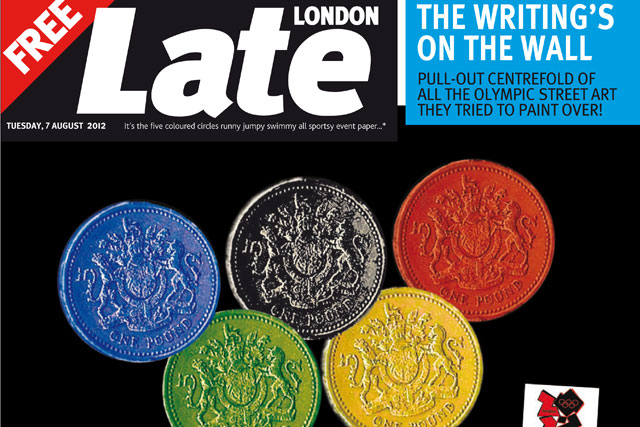 Adidas, Rio Tinto, Dow and G4S also feature in the London Late (intended to resemble defunct freesheet London Lite), of which 10,000 copies have been printed though only around 1,000 were handed out yesterday at locations including Old Street and Liverpool Street.
One of the distributors was spotted wearing a Lord Coe mask.
A spokesman for War on Want, one of the pressure groups, claimed more copies of the paper would be distributed today, possibly in Hyde Park, Victoria Park and along the marathon route.
War on Want has teamed up with four other pressure groups – the London Mining Network, the Bhopal Medical Appeal, oil campaign group Platform and UK Tar Sands Network.
The newspaper alleges that energy company EDF is at the centre of nuclear safety concerns and secret dumping of uranium in Siberia.
It claims BP advertises its "advanced biofuels for London 2012" but claims that 99% of the company's fleet uses conventional fossil fuels.
It also claims BP's oil extraction from tar sands in the Canadian province of Alberta killing off swathes of forest, which in turn drives climate change, and contaminating water supplies, with illness soaring among indigenous communities.
BP declined to comment, while EDF issued a lengthy response:
"EDF has a proud and proven track record on sustainability. In recognition of its role in supporting the development of a low carbon economy EDF Energy, the UK subsidiary of EDF, was recently awarded the Business in the Community Award for Excellence in Environmental Leadership.
"When EDF Energy's Climate Commitments were first published in 2007 they represented an ambitious set of targets not seen before in our industry. As part of our updated commitments launched in 2010, EDF Energy set itself some of the toughest targets for reducing carbon emissions and waste of any UK company. These include reducing the intensity of carbon dioxide emissions from electricity production by 60% on the 2006 baseline by 2020, cutting the proportion of CO2 arising from our customers' energy consumption by 15% by 2020, and a commitment to work with all of our suppliers to ensure they meet the 10 principles of the Global Compact to guarantee an ethical supply chain.
"EDF Energy also recently reinforced its commitment to the development of new renewable generation in the UK with the announcement of plans to develop a new wind farm at Navitus Bay near the Isle of Wight in a joint venture with Eneco Wind UK Ltd. Once completed, this project could deliver enough power to supply between 615,000 and 820,000 homes, and will prevent the production of approximately 1,186,000 tonnes of CO2 each year. EDF Energy Renewables already operates wind farms at 20 sites across the UK, with an output of over 500MW.
"EDF Energy also has plans to build four new nuclear plants in the UK, subject to the right investment framework. These new plants could generate enough low carbon electricity for about 40% of Britain's homes.
"Our London 2012 programme is designed to reduce the environmental impact of the Games and to maximise sustainability benefits. We have introduced innovative services which will not only help reduce the impact of the Games but also leave a lasting legacy beyond 2012.
"An example of this is our involvement in a project to reduce the carbon footprint of London's Tower Bridge through the installation of more efficient lighting. Working with the GLA, the City of London Corporation and fellow London 2012 sustainability partner GE, we have installed LED lighting on the landmark which will lead to a reduction of around 40% in the energy used to light the bridge and will remain in place for years to come. EDF is also installing the latest in real-time energy monitoring technology at the Olympic Park and other venues to help control and reduce energy use both during the Games and afterwards.
"As well as the lasting legacy at Tower Bridge and the Olympic Park, we are also working in partnership with Locog, Transport for London and GE to provide recharging points to support the Locog electric vehicle fleet. EDF has designed an advanced recharging solution that not only supports the Olympic vehicle fleet during Games time but could also contribute to a legacy of charging infrastructure for Londoners who hope to move towards a lower carbon lifestyle.
"EDF also hopes that its provision of an electricity supply for the Olympic Park that is backed by electricity from low carbon nuclear (80%) and renewable generation (20%) will encourage people to think about where the electricity which they use comes from and the carbon emissions associated with its production. In addition, Tower Bridge and another iconic London landmark, the EDF Energy London Eye, are powered by EDF Energy's low carbon product 'Blue' which is 100% backed by electricity from nuclear generation.
"We have also developed large scale behaviour change initiatives linked to sustainability. Our Team Green Britain campaign, founded in 2009 to encourage people to work together to live lower carbon lifestyles ahead of London 2012, has since grown to be comprised of over one million members.
"The Pod, EDF Energy's Programme for Greener Schools and part of Locog's 'Get Set' education scheme, has engaged an estimated 6.5 million young people in sustainability since it was launched in 2008. The programme has had a specific emphasis on how people can make real and practical changes to reduce their environmental footprint in school, at home and within the community. Additionally, our Legacy Champions initiative has seen EDF Energy employees work with 300 young people from schools and colleges in East London to develop projects that will bring a positive London 2012 legacy to their communities.
"EDF is confident all of our projects linked to London 2012 will contribute significantly to a positive sustainability legacy for the Games and we are very proud to be an official partner of London 2012."
Follow @loullamae_es