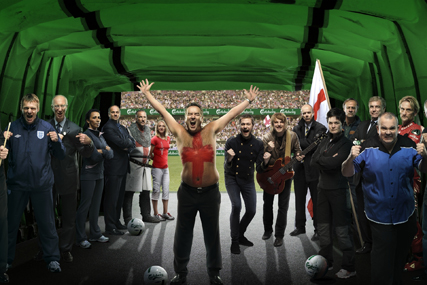 FEBRUARY
The 100-day countdown to the start of Euro 2012 began on 29 February. Carlsberg, the official beer of the England team, launched a free Euro 2012 app, offering exclusive content and news.
MARCH
Carlsberg's Facebook page offered fans the chance to win a VIP football trip to Liverpool FC. The posts highlighting the competition received more than 800 'likes' and 100 'shares', as Carlsberg looked to maximise its links with the club.
APRIL
'Carlsberg don't make ...' chatter from fans being creative with the brand's old strapline on social media kept its score high.
MAY
Carlsberg debuted its new ad ahead of Euro 2012, showing the makings of a perfect fan. Featuring an array of famous faces including Ian Wright, Des Lynam and Stuart Pearce, it proved a hit on Twitter.
Carlsberg's social-media approach and £35m marketing budget ahead of Euro 2012 has clearly improved the lager brand's reach. Attracting its 500,000th Facebook fan in April, an increasing SMR score is testament to the brand's online strategy.
The Yomego SMR Index helps brands to benchmark their popularity in social channels. Follow @YomegoSocial