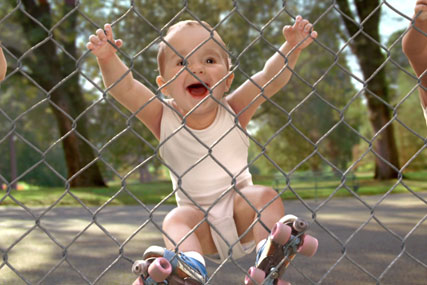 MARCH: Evian's worldwide Facebook page shared a range of 'inspiring' images. In the UK,
however, engagement was relatively low, despite Evian's sponsorship of UK Coffee Week.
APRIL: Evian reintroduced its dancing baby to the UK via Facebook. The new ad, not on the EvianBabies YouTube channel, was a version of a 2011 French ad.
MAY: A buzz was created on Facebook by a post promising 'something exciting'. This turned out to be 500 free bottles a day, offered over a two-week period. It was well-received, but likes and engagement were still relatively low.
JUNE: Partnering Maria Sharapova, Evian launched 'ball hunt' to tie in with Wimbledon. @Evian_UK's Twitter account provided clues to the whereabouts of a ballboy, with prizes for the first to find him.
Evian has maximised its sponsorship of Wimbledon through social, using Facebook and Twitter to attract new users. Its #evianballhunt encourages users to check in to locations in the hope of winning signed merchandise, clothing or tickets. A clever gambit, although some Twitterless fans might feel a little left out. However, the brand's efforts are paying off with an increasing score.
The Yomego SMR Index helps brands to benchmark their popularity in social channels. Follow @YomegoSocial