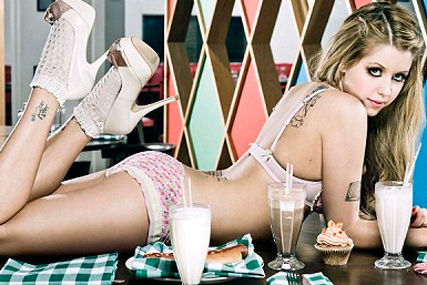 NOVEMBER
Dragons' Den entrepreneur Peter Jones tweeted about Ultimo owner, Michelle Mone, in his BBC2 show, How We Made Our Millions. Michael Buble's wife, model Luisana Lopilato, signed up to model the brand's lingerie.
DECEMBER
Ultimo announced record company profits and more buzz was generated when socialite Tamara Ecclestone joined the list of celebrities named as the 'face and body' of the brand.
JANUARY
Scottish Twitter users took a dislike to Mone's 'threat' to move south if independence is granted
FEBRUARY
@MichelleMone offered one winner an 'Ultimo lingerie set', to coincide with Valentine's Day, to her 113,000 followers.
Racy pics, celebrity ambassadors and press cuttings comprise Ultimo's social content, with the odd competition and incentive - such as a 10% off voucher for 'liking' - thrown into the mix. Sentiment has been pretty good, but reach and engagement on social platforms has been low, and will remain so unless there is a bigger commitment to content and activation.
The Yomego SMR Index helps brands to benchmark their popularity, in social channels. Follow @YomegoSocial
Methodology:
The Social Media Reputation (SMR) score provides a benchmark to gauge brands' respective popularity.
The score is derived by averaging the noise around a brand (reach) with its popularity (satisfaction).
Then the numbers from the last month are compared to the previous three months to apply a topical adjustment (recency).
An algorithm and some more human analysis later produces the SMR score.
To boost accuracy, a representative sample of the automated sentiment data is validated by Yomego's expert team.