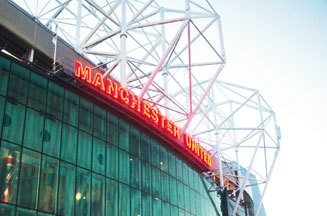 Manchester United's footballing success has been well documented. Off the field, its performance seems to have been as strong; deals with Diageo and Saudi Telecom have lined the club's pockets. It could also be about to switch its shirt sponsorship from AIG to Samsung, currently tied to Premiership rivals Chelsea.
Given such success, the latest results posted by Red Football Joint Venture, the club's parent company, are somewhat surprising. It recorded a pre-tax loss of £44.8m in the year to 30 June 2008, while its debts increased from £604m to £649m.
Manchester United is widely considered to be a well-run club and, arguably, was the first within the game to have understood the value of developing a brand. Football clubs are remarkably fortunate in one respect - they have the most loyal customers a brand could wish for. But, while chasing support overseas is fine, clubs should not neglect fans closer to home.
Last week, Manchester United was forced to cut its season-ticket numbers. This followed an OFT probe sparked by complaints from season ticket holders that a change made to the tickets' terms and conditions in 2007, regarding home cup games, was unfair.
How can the world's biggest football brand get out of the red? We asked Tom Silk, managing director of Velocity Sports & Entertainment, and Mike Spicer, EHS Brann group managing director and Chelsea season ticket holder, for their views.
Tom Silk managing director, Velocity Sports & Entertainment
What makes Manchester United's substantial losses all the more confusing to Joe Public is the fact that they come on the back of record revenues. 2008 was a golden year for the club's bean-counters, with the highest-ever turnover and the biggest increase in year-on-year revenue. Putting United's pre-tax losses into this context highlights the murkier issue that lurks beneath the numbers.
Innovation has always played a central role in Manchester United's success. Commercially, it was the first to exploit the Premier League's international broadcast deal and turn the end-of-season tour into a global, travelling football extravaganza.
So, was it a similar desire to innovate that influenced the club to undertake the biggest leveraged buy-out in UK sporting history and saddle itself with annual interest payments of £60m? Whatever lay behind it, innovation will remain the key to addressing the current shortfall. With 330m 'followers' across the globe, a strategy that can convert these people into actual fans and, ultimately, paying customers, will reap rich rewards for the club.
Remedy
Continue to develop footballers in key international markets such as Asia. The combination of premium, local talent (Park Ji-Sung of South Korea, for example) and the United brand makes for a powerful consumer proposition.
Use the power of digital media to deepen the level of consumer engagement and deliver a more bespoke interaction for fans.
Keep on winning. With Sir Alex Ferguson reaching for his pipe and slippers, the pressure to maintain the dynasty will be huge.
Mike Spicer group managing director, EHS Brann
Since the mass commercialisation of football in 1992, Manchester United has unquestionably been the team to beat. In the past 16 seasons, it has collected 10 Premier League titles, four FA Cups and two Champions Leagues. Old Trafford regularly attracts more than 75,000 fans (all paying above and beyond £45 a ticket, 30 or so times a season).
It is the most recognised football team in the world, with more than 330m fans - 5% of the world's population - based everywhere from Guildford to Gauteng.
But despite the undisputed size of MUFC, there's a growing concern over the financial situation of parent company Red Football Joint Venture.
When Malcolm Glazer bought United with borrowed money, fans protested and even created their own club, FC United. Perhaps the real effects of the 2005 buyout are coming to a bitter fruition.
Remedy
Make the club personal. Old Trafford will always have a pull, but if the club were to know more about its fans (customers), it could target them in a more relevant way. Imagine - Rio Ferdinand scores a last-minute winner and 75,000 fans get a text, reminding them that Rio's World Cup Wind Ups is on special offer in the club shop.
Further the sponsorship deals. Gone are the days when a big brand will lump their name on a shirt for millions of pounds. Perhaps more focused and bespoke deals are the trick. If a club can find a brand that needs it to raise its profile, then this in turn creates new revenue streams.
Sell Ronaldo to Real Madrid: £75m should prove an upturn in revenue next year, not to mention the £120,000 a week in wages the club will save. And I'll pay for the flight.