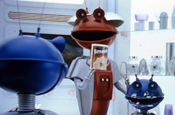 The agency is on the hunt for brand mascots from all eras, including PG Tips' Monkey, Levi's Flat Eric, Bertie Bassett and the Smash Martians.

It is understood that the characters are likely to sing a song during the film encouraging consumers to buy a red nose and donate to the charity.

The film will run as a viral in the run-up to Red Nose Day on 13 March, and will be screened during the BBC's coverage of the event.