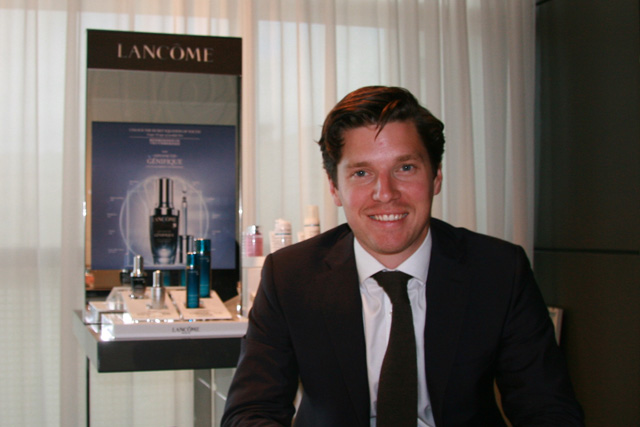 Describe yourself in three words
Non-conformist.
How would you define marketing?
Building desire, creating demand.
What would you be if you weren't a brand manager?
An entrepreneur.
What advice would you give someone starting their marketing career today?
Be passionate about everything you do.
What attracted you to your current job?
I love brands so the opportunity to join L'Oreal in their Luxury Product division and work for brands like Lancôme, YSL and Kiehl's was really appealing. I feel fortunate to have joined a company where there are plenty of opportunities to build a varied career across different brands and geographies. L'Oréal's "Nothing is impossible" culture makes for a challenging, but rewarding environment.
What was your first job?
Logging Christmas trees. Tough gig. Those +20 footers were heavy.
How did you get your first job?
I pretended to be strong.
What is your favourite ever marketing campaign?
There are many but one that stuck was the re-branding of Skoda. Approaching misconceptions head-on was admirable and ultimately very successful.
What is your all-time favourite slogan?
"You never actually own a Patek Philippe. You merely look after it for the next generation." Class.
Do you have a marketing mentor?
Not one person but I'm fortunate to have a network of people, at work and outside, from different backgrounds who are a huge source of inspiration.
Who is your most admired person in business?
The businessmen I admire the most are those who have successfully launched disruptive innovations that change markets, systems and lives for the better. From biotech to the 'net and beyond.
What hobbies do you have?
Extreme sports; I'm happiest when I'm surfing or about to drop into a nice big powder bowl on skis.
What makes you angry?
Injustice
What is your favourite pub?
King William in Ipsden. Great view, great ales.
What's your favourite holiday destination?
Italy, the love of my life.
If you could get tickets to any event, what would it be?
Brazil World Cup Final tickets at Estadio do Maranca would be perfect.
What are the perks that come with your current job?
I've definitely become more popular with family and friends with the amount of great beauty products I'm able to gift. They're looking good for it too!
If you had three wishes, what would they be?
Health and happiness for all I love, to be a better surfer and infinite wishes.
What is your most indulgent purchase?
Buying a vintage Royal Enfield when I worked in India felt indulgent at the time
What headline would you most like to read in Marketing?
Lancôme's new skincare launch – DreamTone – helps a record number of women feel happier and more confident about their skin tone.