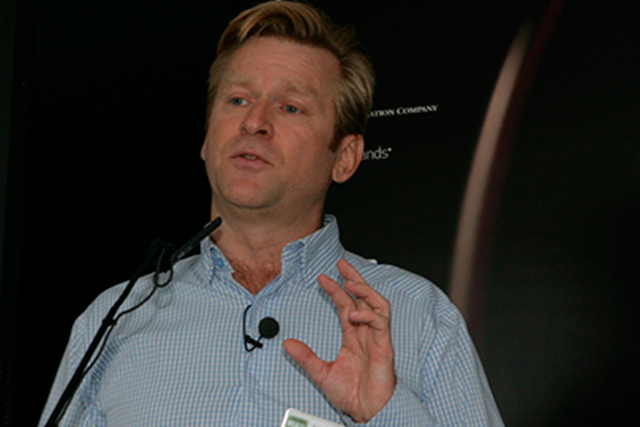 Addressing senior executives from both client and agency businesses, Hayward set the tone of the peer-to-peer style of the event, noting, "today we are all pupils and we are all teachers".
The leader of JWT, which this year launched Brand Toys characters ranked on Millward Brown's BrandZ, warned marketers against following the safe path of the known and to explore new opportunities.
Hayward said: "People talk to me about marginal gains, incremental gain, doing the same thing only better – and I find that deeply disappointing and depressing.
"If you look at our role in the world today, what the world needs more than anything else today is brands making, big, big moves."
Hayward is chairing the first day of BrandMAX, which aims to be a "collective rethink" by way of a series of keynote speakers, workshops and hub sessions taking place over the next two days.
Noting how brands outside the existing establishment appear to be more playful than those within it, Hayward said: "I would argue it is almost the moral obligation of marketers to be thinking big and thinking fast.
"To really transform the brands that they're working on and attack them with more ambition.
"There are so many opportunities. It feels to me that while we have some fantastic case histories … the best is still yet to come.
"I think Andy Fennell of Diageo used the phrase, 'the Golden Age of Marketing is about to hit us' and I think he's absolutely right."
Other speakers at BrandMAX today include: MediaLink's chairman Michael Kassan; Tourism Queensland's Steve McRoberts; SapientNitro's Paul Bennett; VCCP's Charles Vallance; BMW's Richard Hudson; Nike's Ed Elworthy; Wieden+Kennedy's Neil Christie; Anomaly's Carl Johnson; Expedia's Gurmej Bahia; Walkers' Miranda Sambles; AMV BBDO's Adam Tucker; and John Lewis Partnership's Andy Street.
Later tonight, BrandMAX delegates will attend a gala dinner to celebrate the 10th anniversary of Brand Republic and the opening of Brand Republic's Hall of Fame, which will celebrate the brands, individuals and businesses that have innovated and succeeded in the past decade.
Haymarket's Brand Republic Group includes Brand Republic, Marketing, Campaign, PR Week and Media Week.