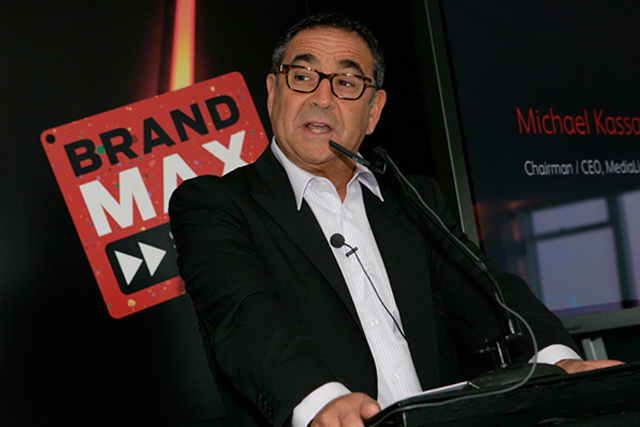 Giving the opening keynote at Haymarket's BrandMAX conference in London on "why Silicon Valley will define the future of marketing", Kassan said that one of the most important concepts marketers should learn from California's Silicon Valley, the home of the digital and technology revolution, was "fail fast".
Silicon Valley was no longer a place but a collective mindset – "a set of principles built around execution, and so are marketing organisations," he argued.
Kassan said: "It's OK to make mistakes as long at they are recognised and rectified quickly. It's just another way to recognise how not to do something, as long as it is experiential and not reckless."
He added: "Watson and Crick [who discovered the structure of DNA] were just mad scientists."
Kassan said digital literacy was the key for marketing executives to survive the changing technology landscape.
They needed to be their own experts, and it was "absolutely critical" they were comfortable with the options available to them in terms of technology, and well informed about best practices for current options.
He said: "They need to be continually making educated guesses about what is on the horizon and around the corner. The only way to do that is to cultivate a working knowledge of the digital ecosystem.
"It is not good enough to have a good social media team. You need to be able to evaluate whether the work coming out of that team is great or not."
Kassan's argument was based on the need to "keep pace or die", saying that marketers should be thinking of technology as a utility integrated in consumers' lives.

He said that utility should define strategy and not the other way around, so when strategy defined utility, "the tail is wagging the dog".

"When you pull out your laptop, your iPad, your BlackBerry, you don't follow a digital strategy. You don't follow anything – it has become so integrated into our lives. It is a tool to get things done, it is not an accessory."
He said: "If you reach for your BlackBerry in the morning, you are not unusual – you are a product of the modern era, and probably a workaholic with gingivitis."
Discussing which technologies marketers should have on their agenda, Kassan said TV or video was the most important.
He said: "Digital technology has elevated the unmatched impact of visual storytelling into what I believe may be the single most potent form of marketing communications that has ever existed – television. It's just now we don't have to watch it in the TV set.
"TV may now be video, but video is no longer TV."
Kassan claimed YouTube was the second-largest search engine in the world, 66% of online video viewers in the UK are watching more online video than they did a year ago, and out of the five billion online videos English viewers watched in April, more than 235 million were ads.
He said: "Technologists have freed what is still TV from the confines of its tiny box, to everywhere, and for marketers, the technological emancipation is a vast new canvas to paint a brand message."
He moved on to the renaissance of social TV, saying: "If you asked me if there was one thing that marketers should bet on in the near future, one unique opportunity for a brand to enhance its identity and deepen its relationship with consumers, it would be social TV."
As the technology developed there would be new opportunities for marketers to use the platform – such as Facebook teaming up with Budweiser to show the opening match of the FA Cup, he said, adding the trend would accelerate as connected TVs became the staple in households.
He also stressed how software development in recent years had been more skewed towards mobile than the TV ecosystem, which was something that would eventually change as interactive TV became ubiquitous.
Kassan wrapped up his keynote by discussing how digital was a language and marketers could use it as a tool to connect with consumers. He left the audience with the takeaway: "The future may be unknown, but what is known is that the digital consumer will always be right."