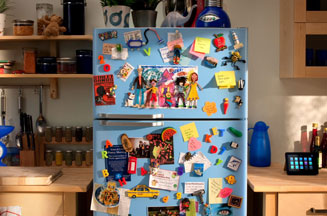 It all began with a biscuit. Gordon Brown's apparent delay in revealing what he dunks in his tea during a webchat with users of parenting website Mumsnet.com caused the prime minister far worse PR problems than he could have imagined.
Yet such is the site's influence that the Conservative Party's leader, David Cameron, has also taken part in two discussions with its famously opinionated members. The Times recently asserted that, while 'Worcester Woman' set up the Labour Party's landslide victory in 1997's general election, that to be held next year will become known as the 'Mumsnet election'.
With its target audience of 'educated, savvy' mothers, Mumsnet attracts 1.2m unique users and 18.5m page views each month. Brands are keen to tap into this affluent and influential group, but the founders of Mumsnet are notoriously choosy about which advertisers they allow on the site.
Founder Justine Roberts backs the WHO/Unicef International Code on the Marketing of Breastmilk Substitutes, and so has barred NestlŽ from advertising on Mumsnet. McDonald's is also banned, while certain products, such as formula milk and cosmetic surgery, are deemed inappropriate. 'Intrusive' forms of digital marketing, such as pop-up ads, are also blocked.
While she will not name specific brands that are unwelcome on the site, Roberts says it is important that it remains a comfortable destination for users. 'It is a bit like the wallpaper you put up in your living room. They can be quite fussy, so you risk people not being happy to spend time on the website.'
Roberts adds that Mumsnet is prepared to work only with brands that its audience 'wants to hear from' and, specifically, anything that will make 'parents' lives easier'. This means no 'random car, mobile phone or bank brands', or any patronising brands promising 'whiter whites'.
She talks enthusiastically about a previous partnership with Dyson, in which site members interacted with engineers on product trials and gave feedback about their experiences. Waitrose has also produced video content for Mumsnet, with advice on cooking and baking.
Earlier in the year, O2 entered into dialogue with Mumsnet members to help develop its Joggler family organiser. According to O2 advertising manager Liz Ward, who led the project, it was the perfect opportunity for the brand to connect with a largely un-known audience, despite Mumsnet's reputation for ferocious debate.
'We needed to bridge the gap between O2 and families, and, short of going into school playgrounds, this was a great chance to generate conversation,' she says. 'We were aware of the risk of a negative reaction, and it was a bold move for the brand to make. You open yourself to criticism, but we went into it with our eyes open, and made sure we were as nimble as they were.'
O2's ad agency VCCP's head of strategy and innovation, Amelia Torode, who also worked on the Joggler project, says the most important aspect was maintaining an open and honest approach. Furthermore, rather than grilling a politician, the dynamic of the discussion was changed by the fact that the brand was asking the questions.
'They are intelligent women - they don't want to be sold to or patronised, or talked down to as little housewives' says Torode. 'We tried to be very honest, very transparent, and get [the users] to tell us what they think about it. We were genuinely asking for feedback.'
Not everyone is convinced of the power of Mumsnet, however. Jane Asscher, chief executive of marketing communications agency 23Red, which has targeted mothers for several government campaigns, believes the website appeals only to a certain type of parent and will not reach lower-income families.
'Despite all the hype about Mums-net, you have to remember it was set up by a sports journalist and a TV producer, and it's very much for middle-class mums,' says Asscher. 'Other mums are more difficult to reach - you have to engage with face-to-face social situations, as well as digital social networks. It is harder work than a straightforward media buy, but can be very rewarding.'
Brands brave enough to step into the bear-pit of Mumsnet, provided they approach it in a considered fashion, can secure the attention of some of the UK's most influential consumers.
Get it wrong, however, and there is a risk of serious damage to the brand. Approaching Mumsnet as a one-stop shop for potential female customers would be even more careless.