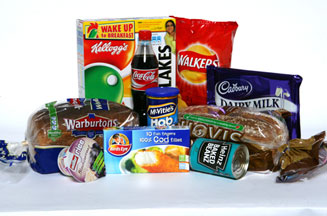 This week, for example, high-street chain Superdrug has launched a 'credit-crunch' skincare line, called Essentials; all products in the range are priced £1.
The retailer is following a trail blazed by companies including Asda, which recently branded itself the UK's biggest pound store, Iceland and Birds Eye, all of which have introduced £1 products this year.
Costcutter and Tesco are among other retailers to have seized on this 'round-pound' trend with '£1 zones' intended to emphasise products at that price point.
Consumers have been exposed to £1 products through budget stores such as Poundland for some time. However, the latest wave of £1 offerings shows that such deals are now available outside the value retailer sector, making them accessible to 'everyday' grocery shoppers.
Asda now offers about 2000 products priced £1, more than double the amount available last year. Its 'round-pound' deals are considered a response to the growth of hard discounters such as Lidl.
Frozen-food brand Birds Eye, meanwhile, launched its first major TV ads of the year in February to support £1 promotions across its 'hero' lines.
At the time, Birds Eye marketing director Ben Pearman said: 'The current economic climate is posing a number of challenges for consumers and manufacturers alike. As a brand, Birds Eye is committed to bring both value and quality to its products. We are delighted to offer such a strong promotion with our £1 value deals.'
However, retailers may be turning to £1 deals because this price looks less like a short-term promotional stunt. Mike Watkins, senior manager, retailer services, at research company Nielsen, says: 'The £1 product is a proposition that is clearly understood by the consumer. The £1 offer is not as familiar, and so it is perceived as being different.'
Watkins believes this difference in perception could spur consumers to move away from BOGOF deals toward this more 'contemporary proposition'. If this is the case, it will be welcomed by the government, whose 'Food 2030' paper, published last week, was critical of 'wasteful' BOGOF deals.
Retailers such as Superdrug and Asda will be hoping that by offering products at these prices, they will be able to retain or attract consumers who may otherwise be tempted to shop at value stores in an attempt to get the cheapest fixed-priced deals.
Watkins claims that as £1 deals are most commonly available on FMCG products, they are unlikely to cheapen brands. 'Fixed-price products at this low price are normally for immediate consumption,' he says. 'The products are not expected to last a long time and so their value won't necessarily be questioned.'
Will Galgey, managing director at trends and futures consultancy The Futures Company, notes that such fixed pricing has further benefits for both retailers and consumers.
'The £1 product is part of a broader trend of retailers turning to rounded price points,' he says. 'They are easier for consumers to navigate. They also help consumers to make comparisons between products and keep track of spending.'
Galgey adds: 'Consumers want to spend more wisely.
In the current market they are more vigilant about marketing. The £1 deal seems more honest than the 99p deal, which can be deemed manipulative and underhand.'
The idea that consumers are becoming more savvy when it comes to shopping supports another theory to explain the rise of the £1 product.
It may be the case that the simple, round figure helps consumers plan their shopping lists and stay on budget. Such deals help people to be specific when choosing products and minimise the risk of overspending.
So, by making the shopping experience simpler for consumers, these brands are finding it easier to entice customers into shops.