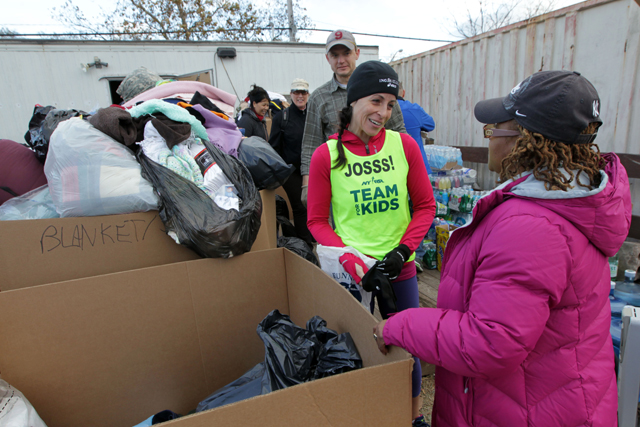 At the moment 47,000 runners had been due to begin the New York City Marathon on Sunday 4 November, a very different challenge began. Many of the would-be runners, faced with a cancelled race in the wake of Superstorm Sandy, set aside their disappointment to volunteer to help clear debris from damaged neighbourhoods, many of them dressed in their brightly coloured running kits.
It was just one of a plethora of acts of kindness - from corporations and citizens alike - offering a helping hand in the face of devastation. Many turned to social media to drive their relief efforts.
Race 2 Recover NYC, a pop-up website and Twitter feed, moved to reallocate the hotel rooms reserved by marathon entrants but subsequently unused. The site accepted reservation information for these rooms and matched them to those who were displaced, or without heat or power.
Across the web and the country, other acts of kindness were taking place; from individuals going door-to-door with supplies in affected areas, to brands such as Walt Disney, Coca-Cola and Pernod Ricard making substantial donations to the relief effort.
AT&T was among the brands to have provided a timely example of what to do in a crisis. The telecoms company, which is waiving late-payment charges and has created an open network with rival T-Mobile to give consumers in the affected areas the best possible coverage, is putting its customers first.
At a time when many brands stand accused of using the recession as an excuse for short-changing consumers and cutting corners, the New York Marathon runners provide a compelling case for the enduring power of kindness.
For many ordinary people, running a marathon is a life-changing experience: it requires phenomenal commitment to training and is a true endurance challenge. For those runners who ultimately made the journey to New York for different reasons, their achievement, while far-removed from that they had been working toward, will have been no less life-changing.
Nicola Kemp is Marketing's head of features. Follow her on Twitter: @nickykc
THE UPSHOT
Why brands should know about embracing kindness
Transparency is the new trust
Brands can no longer afford not to do the right thing. With their actions under the microscope to an unprecedented degree, they can not be seen to push any perceived slight or slip-up under the carpet.
The irony is that in the recession brands squeezing their profit margins by shaving services and cutting corners are alienating consumers. Corporate kindness has never been more important, and scale isn't everything; Whole Foods Market's Tribeca store in New York gave away food, providing unexpected, much-needed relief to neighbours.
Embracing a sense of purpose
While, in the endless quest for ROI, it is tempting for marketers to become more insular, it is vital to focus on the big picture. Brands that go above and beyond to provide a service to consumers at a difficult time will be rewarded in the long run.
You may not recall which supermarket's strapline it is (Tesco), but Superstorm Sandy served to underline the power of small, but no less important, acts of kindness.