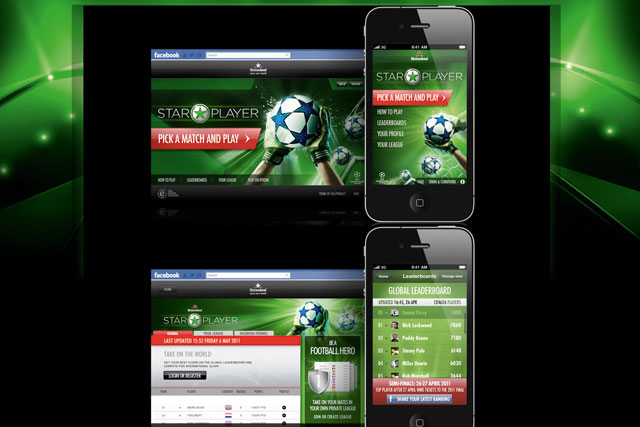 As Apple prepares to release the iPhone 5 this autumn, recent research by Deloitte suggests most brands don't know how to engage with users effectively on smartphones. The figures show that 80 per cent of branded apps have been downloaded less than 1,000 times, and only 1 per cent of branded apps have managed one million downloads or more. Which begs the question: should brands invest time and money creating them?
When branded apps work, they work brilliantly. Who can forget Barclaycard's Waterslide Extreme game, courtesy of Dare, that has chalked up more than 12 million downloads to date? AKQA has also made a big impact in this field. This year, it won a gold Cyber Lion for its Heineken Star Player app, a game that allowed Uefa Champions League fans to interact in real time and predict when goals would be scored. Last year, AKQA in Washington scooped the Titanium award at Cannes for its Volkswagen GTi app, which enabled people to test-drive the car virtually for a chance of winning a special-edition model. The app became the number-one download in 36 countries.
Daniel Rosen, the head of AKQA Mobile, says: "The VW app generated a lot of leads from people who went on to test and buy the car itself." The reason it worked so well? Rosen says the smartphone audience was the right consumer target (young professionals with high disposable income), the app was created using "world-class" production values, there were prizes on offer and the gaming aspect slotted into existing smartphone behaviour. As with the Heineken app, its USP was that it encouraged users to go back again and again.
It is this "boomerang" behaviour that apps need to create to be effective, Benedict Pringle, an account director at Abbott Mead Vickers BBDO, says. "The opportunity a game offers to a brand is huge," according to Pringle, who has recently worked on a gaming app for Doritos called Dip Desperado, where players flick tortilla chips into jars of salsa for a chance to win prizes.
Steve Bittan, the marketing director of the digital design studio Ustwo, agrees that it is the sustained engagement with apps that count: "A download is one thing. But as a client, I'd be more interested to know the daily active users."
Clearly, an advertiser's dream would be to create a branded app that has the magnetism of Angry Birds. But aside from being entertaining, the other key reason consumers are likely to download an app is because it is useful. British Gas claims 200,000 of its customers have downloaded its meter reading app that allows them to avoid estimated bill payments.
Usefulness is key, Thiago de Moraes, a creative partner at AMV, believes: "Unless there's engagement in the form of entertainment or utility, you shouldn't do it." If you're going to do it, Bittan says, "spend at least £60,000 and make sure it's good. Too many brands spend too little time and money on apps."
Some brands see an app as part of a box-ticking exercise, Ben Guyer, the associate creative director for experience design at SapientNitro, says: "It's becoming a faux pas if a brand doesn't have one. It looks like you're not paying attention."
But how important is the branded app to the marketing mix? To use an analogy, if that mix formed a cake, what ingredient would it be? De Moraes is quick to reply: "It depends on the campaign. Sometimes it can be the whole cake. And other times, it can be the horrible marzipan you scrape off the top."
Got a view? E-mail us at campaign@haymarket.com
CLIENT - Will Orr, director of brand marketing and communications, British Gas
"Branded apps have got to be useful, otherwise brands shouldn't do them. Think utility versus vanity.
"The Nike GPS running app is a good example, as is the British Gas meter reading app. If people are providing meter readings via an app to ensure they're accurate, it's good for them - and it reduces cost to serve as well. It has a commercial benefit.
"Mobile technology is also improving rapidly, so users have a much richer experience, which increases the usefulness and enjoyability of the app. I think it will continue to become a bigger part of the marketing mix."
CREATIVE - Thiago de Moraes, creative partner, Abbott Mead Vickers BBDO
"You need to be very careful if you do a branded app that it's technically solid. I've noticed that companies will often launch apps that have functional problems.
"Branded apps are competing in the reality of pop culture, entertainment and utility. If it's a game, it has to be as good as the other top 100 games in the App Store.
"There's no barrier these days between what a consumer sees - you don't get away with a lot. Some apps are downloaded because they have been heavily promoted but do a disservice to the brand as they don't work."
AGENCY HEAD - Daniel Rosen, founder and head, AKQA Mobile
"Sometimes it's not right for a brand to do an app. I often talk to clients who say they want an app but we work out it's not part of the solution. Sometimes it's right, but the execution also has to be right.
"It's clear when someone has applied web design to app design, and that's where an execution can fall down. Good mobile interface designers are scarce because mobile has grown so quickly.
"But there's no doubt that apps can add huge value. A lot of our brands have achieved the most success with apps that provide a utility and make people's lives easier."
AGENCY HEAD - Russ Lidstone, chief executive, Euro RSCG London
"I recently read that average usage of an app is only three occasions. So apps are a cluttered 'category' where only the good win out - and the danger is that clients or agencies want one for the sake of having one.
"Branded apps can be a folly if they serve little purpose, are not borne out of brand proposition or fail to engage via sticky entertainment.
"Of course, a branded app can be a powerful way of engaging the consumer and creating a reservoir of goodwill towards a brand. The fundamental requirement is that it has to provide 'worth'."