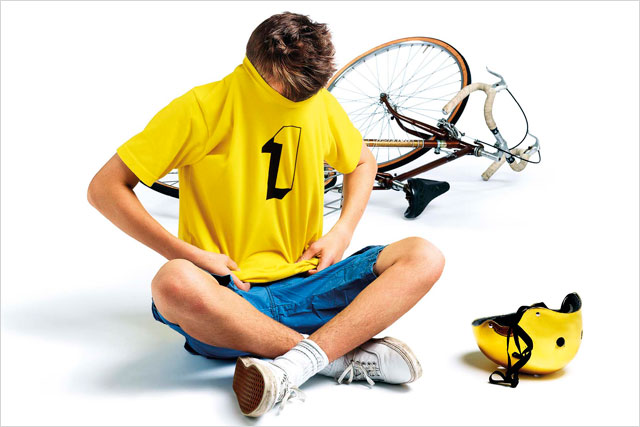 The win vindicates Sky's decision in 2009 to become the headline sponsor of the British road cycling team which secured the one-two in this year's Tour.
However, none of the ads feature a picture of Wiggins, who is competing in the Olympics, due to the ad blackout in force from 18 July until 15 August.
Designed to protect Olympic sponsors, Locog's 'Rule 40' prohibits competing athletes from "appearing in advertising during and shortly before the Olympic Games".
Sky offers its thanks to Team Sky in one ad, which invites people to join the celebrations by following the Twitter hashtag #believeinbritain.
It has also run a joint ad with the sport's governing body British Cycling, which it has supported since 2008, that highlights their ambition "to get one million more people back on their bikes".
Rather than using a picture of Wiggins or a professional racer, it shows a boy dressed in casual cycling gear pulling on a yellow t-shirt (again intended to echo the yellow jersey worn by the Tour leader).
It reads: "Today nearly 700,000 more Britons are cycling regularly and Bradley Wiggins has just made history on the Champs Elysees. Do you know someone who might be next?".
Rupert Murdoch's News Corporation, which owns more than a third of Sky and attempted to buy it last year before being thwarted by the News of the World phone-hacking scandal, has run a separate ad in a bid to highlight its involvement.
Its ad reads: "News Corporation has been delighted to be the driving force in the funding of Team Sky since 2009, with our teams in the UK, Italy and the US contributing time, passion, support and ideas to its phenomenal success."
News Corp-owned newspaper The Times has also got in on the act, running a commemorative cover wrap and placing an ad in its own sports section.
Team Sky's brand partners Jaguar, Gatorade and spread betting company IG Index have also placed ads

Gatorade's ad proclaims: "Congratulations for having the bottle to win the tour", while Jaguar's reads: "We've been behind you all the way."
ITV's coverage of the race attracted a peak audience of 3.6 million viewers, across ITV1 and ITV4 combined, as Wiggins won the Tour De France yesterday afternoon.

The average audience for ITV1 and ITV4's coverage between 2pm and 5pm was 2 million - a record high for Tour de France live coverage on ITV over the years since 2002.
Nigel Currie, executive at brandRapport, believes Wiggins could earn up to £5m from off-track earnings, including sponsorship deals, following his victory at the Tour de France.
However, bullish PR man Max Clifford has today gone on record as believing the figure could be as high as £20m.
Follow @DanFareyJones