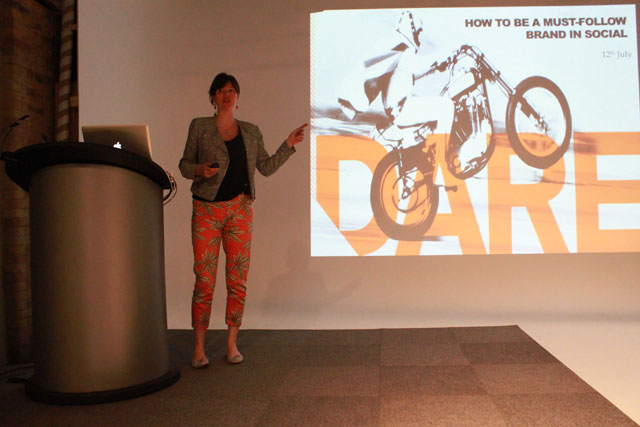 Nadya Powell, director of social and emerging behaviours at Dare, appeared along with other high-profile executives at the Internet Advertising Bureau's Great British Social Media Festival yesterday, including: Mads Holmen, planning director at goviral/Aol Europe; Paul Coffey, industry leader, agency, at Google, and Lewis Wiltshire, the head of sport for Twitter UK.
Powell said brands should not "forget about content", when they write a social strategy and put a Facebook page up.
She said: "Content has to be totally and utterly awesome for people to follow." Powell added that too often, brands relied on CSR or their sponsorship, to provide their content on social media platforms.
She said that brands had to have a point of view in social media, and not talk about what they sell but what they stand for.
Powell said: "This can be challenging for brands, because they try a lot of the time not to have a point of view. But if you do have a point of view, it makes you far more interesting and gives you a wealth of content.
"Stand for something, have a clear role and point of view and they [consumers] will want to debate, to discuss and to learn from you."
She cited the example of Dare clients Sainsbury's and B&Q, which rather than talk about the products they sell, had a point of view which enabled them to create engaging content for social media.
Sainsbury's view was about helping mums live well for less, while B&Q's was to make British homes great, said Powell.
"It's so competitive in social, every brand is there. Typically, people follow five brands, and one of those will probably be Coke, so you have really got to compete, and if you are FMCG, you've got to try much harder, so having that point of view helps."
Rob Salmon, director of digital marketing at digital agency Torchbox, gave a case study speech on Samsung's online football community.
He said: "It is not about digital marketing, but marketing in a digital world", illustrating how "digital affects every aspect of marketing". He said it should be an integrated offering.
His advice to marketers was to post on social media, when consumers are online in the evenings and weekends, and not just from nine to five.
Follow Sarah Shearman on Twitter @Shearmans