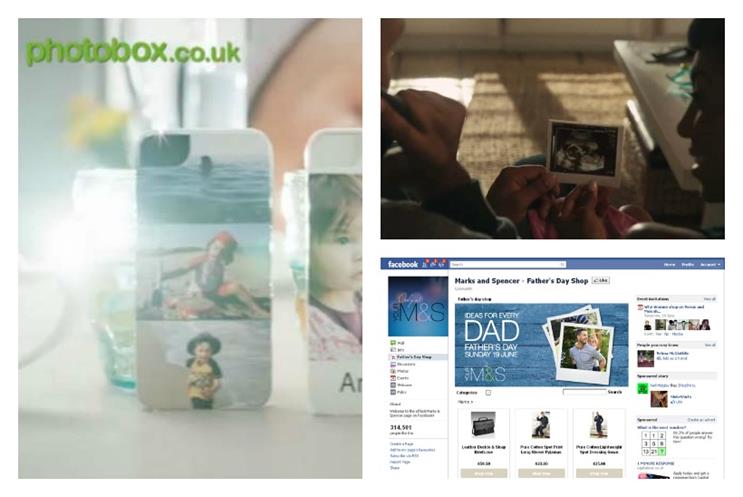 Dove "calls for dad" video
Last year Unilever launched this video to tie in with its Dove Men+Care range. The one-minute film, called "calls for dad", starts with a series of fathers helping their young children in times of need, including scary nightmares, swimming and toilet training.
As the video progresses the children get older and so do their cries to dad, including announcing pregnancies and first dances at weddings.
The video ends with the tagline: "For the times they've answered our call... Isn't it time we celebrate Dads?"
Marks and Spencer's Father's Day Shop
Three years ago Marks and Spencer made the most of its social media presence by targeting fans on Facebook. The high street retailer's dedicated page used technology from Zibaba to power the virtual shop feature on its Facebook page.
Online fans could like, share and even purchase gifts suitable for dads, including clothing, electrical goods and travel accessories.
Ann Summers' 'How's yer Father's Day' campaign
It's ten year since lingerie retailer Ann Summers took a rather racy approach to Father's Day. The 'How's yer Father's Day' activity was targeted at mothers buying presents their partners a present on behalf of their children.
The campaign was off the back of the brand's own research, which claimed 99% of fathers would rather have sex than a traditional Father's Day present.
Products such as massage oil were ticketed with the line "Sex not socks", while window displays also highlighted the promotion.
PhotoBox's "come see more" ads
In 2013 PhotoBox launched a Father's Day-themed television advertising campaign, featuring two 20-second videos.
The "come see more" ads featured different discounts and offers on PhotoBox's personalised gift products, such as smartphone cases, calendars and mugs.
HMV's 'Daddy Cool' campaign
In a bid to reach out to film-buff fathers in 2008, HMV created a series of TV ads featuring clips from such movies as Bonnie and Clyde, Butch Cassidy and the Sundance Kid, Scarface, Apocalypse Now and Great Escape. The campaign aimed to promote these DVD titles as perfect gifts for Father's Day.
The 'Daddy Cool' campaign was pushed by the high street retailer on Channel 4, Five, Dave, Living, ITV2 and ITV4 in the run up to Father's Day, as well as during Big Brother on 12 June.