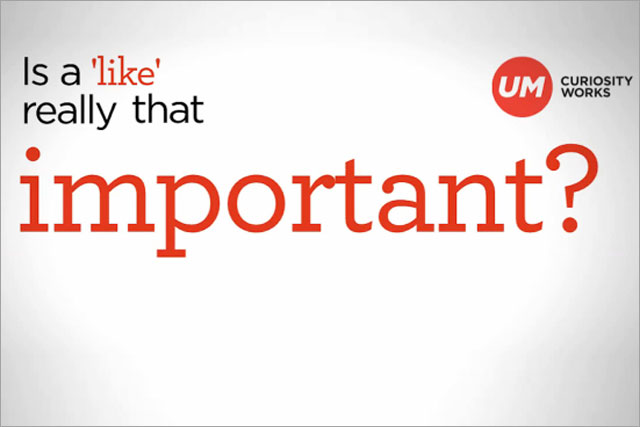 Speaking at the launch of UM's social media study Wave 6, Glen Parker, research director at UM EMEA, told more than 320 media and marketing executives that current approaches to social media need to change in order to maintain relevancy.
Marketers were advised to develop more sophisticated strategies designed to address specific commercial objectives, in order to reach an ever-growing number of social networkers.
Parker warned: "Companies' social media strategies are all starting to look the same.
"What Wave 6 shows is that businesses need to think about creating social experiences that answer specific objectives, before embarking on any social strategy. Simply getting consumers to 'Like' them is no longer a valuable enough tactic."
The first and most effective thing brands were told to do was to simply offer a personal response to customer complaints and queries. When used with the marketing mix, such social interaction was found to provide a more "complete" brand experience.
The need for such transformation was highlighted by findings that brand websites were losing their appeal, particularly with younger web users, with 16- to 24-year-olds increasingly viewing it as "a one-dimensional experience", resulting in a 15% drop in usage.

In addition, as people spent longer with the social media sites they regularly used, they had started to forgo other web experiences.

Parker noted: "For the very first time, we're seeing a slowing in the growth in the numbers of people joining social media. We've never this before, and because we're talking to early adopters, I think this is an indication of the kinds of things that are going to happen in the future. We're not going to be talking about the numbers of people joining social, but rather the amount of time people are spending on it."
The study also reveals some interesting developments around the much-debated issue of data privacy. While people admit they are increasingly concerned about having personal data online, it is a risk they are still willing to take when it comes to uploading a profile on Facebook (which 62% of the global internet population now do), or sharing personal information and opinions across blogs or other social networks.
Parker said: "It would appear that social networking has become too deeply ingrained in people's lives for them to consider sacrificing it – even for something as important to them as their data privacy. It's an issue, but not one that will curtail continued growth."
The UM study is one of the world's largest and longest-running examinations of the impact of social media on today's global marketplace. Started in 2006, it encompasses responses from 42,000 users in 62 countries, said to represent more than half of the world's internet population.

Follow Arif Durrani on Twitter @DurraniMix