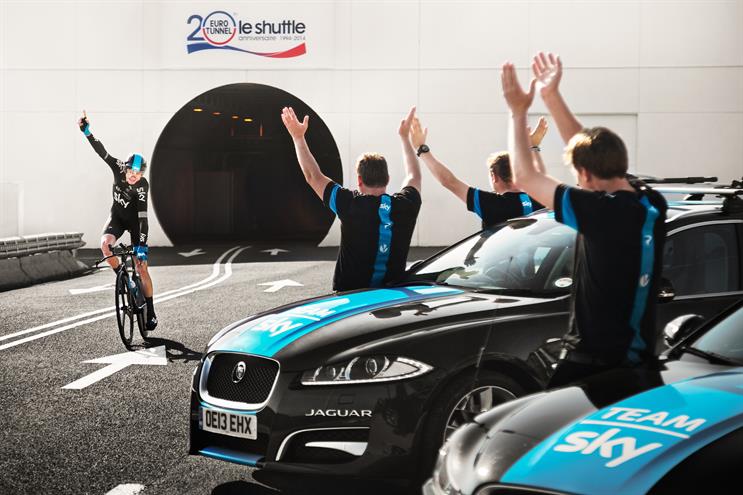 Everyone knows content marketing's the next big thing, right?
Time it well, and you're a hero. Miss the moment, and it's money down the drain.
But as Mike Tyson once said: "Everybody has a plan until they get punched in the face."
In this sporting summer, Chris Froome's Tour de France collapsed, England, Spain and Brazil flopped in the World Cup, Andy Murray's Wimbledon defence ended early and Mo Farah is the latest of many athletes who pulled out of the Commonwealth Games.
Millions of dollars of marketing spend rested on their success.
Yet when faced with failure, many brand backers buried campaigns, sidelined pre-planned ad spots and culled content activation. They didn't need to.
Tour de France champion Froome's sponsors will always remember the quiet corner of Northern France when they took that "punch in the face" this year. Their big asset was out, five days in.
Fortunately for the Team Sky partner Jaguar, they'd made their big play already.
A month earlier, I was with Froome standing 100 metres under the English Channel. Jaguar and Team Sky had entrusted Inc Content with their prize asset. We created the idea for Froome to ride through Eurotunnel's service route. We made it happen. And we filmed it.
Over eight years, we've invented some pretty unique content campaigns such as a live race between a third of a million PlayStation gamers and ex-Formula One driver David Coulthard in a real car on the same track.
But this was pressure.
At any time, Eurotunnel could have shut the shoot down for operations. Only when Froome punched the air in triumph as he rode into the glare at the French end of the tunnel, did we know we had it in the bag. No matter what happened on the Tour.
This was a genuine story. Froome did actually ride the full distance. Eurotunnel judged he was officially the first to cycle from England to France. And even better, he gave us the hook that: "It would make an amazing stage of a race."
On its release, the day the Tour moved from England to France, the film hit more than 6,000 global media outlets, from the New York Times to L'Equipe, Bloomberg TV to Gazzetta dello Sport.
It helped that Froome was still very much a focus. Had he crashed out a few days earlier, it could have been different. Sporting emotions would have prevailed. With Froome and Team Sky still hurting, the film could have been pulled.
But Jaguar would not have lost out. It would have still hit the headlines, even if released at the end of the tour.
It is vital, as content creators, we do what we can to prepare for failure as well as success.
Backing big names brings massive benefits, but it is seen as risky because of what can go wrong. With a clever content strategy though, a brand can benefit long after their star is out of the competition.
It's all about the news agenda. England football sponsors such as Vauxhall were well aware the team's chances of going far in Brazil were not high. But knowing that, they could have done a much better job in maximising ROI.
With 23 stars available before the tournament, we would have captured their views on other players and held them back to run through the entire tournament.
Joe Hart, for instance, on German keeper Manuel Neuer, released ahead of the final, would have had a much more engaging impact than men's grooming product ads one sponsor continued to run.
Backing a big name is a little like betting – and the sensible punter will always go "each-way" to give some hope of covering their costs.
The increasing opportunity for brands to produce content that lives within the news, and the need to maximise their investment in big stars, means content planning is more important than ever.
But the clever brands will plan for disaster as well as success.
Jeremy Hart is the founder and managing director of Inc Content, a creative content agency.