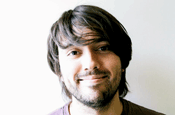 Over the past eight years, Lebrun has worked at W/Brasil, DM9DDB, Age and Ogilvy in South America.

During this time, he has art directed campaigns for Coca Cola, BMW, Reebok and Honda.

Lebrun will join the agency on Monday (15 September).

Andy Sandoz, Work Club's creative director, said: "Rodrigo's addition increases our cultural diversity and further strengthens our ideas.

"He's disappointing at football though."