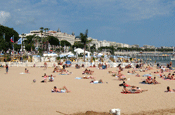 However, the agency failed to scoop one of the three Grands Prix awarded in the category.

They went to Projector, from Tokyo, for its "Uniqlock" work for Uniqlo, Mediafront Oslo, with "sol comments" for Scandinavia Online, and 42 Entertainment in Pasadena with "year zero" for the band Nine Inch Nails.

Colleen DeCourcy, the chief digital officer at TBWA\Worldwide and the jury president, said: "We wanted each winner to be forward-facing and an example of what we thought was progressive work, and they all did that."

Despite missing out on a Grand Prix, Lean Mean Fighting Machine won more awards than any other agency, with four golds, two silvers and one bronze for its Emirates and Virgin Games campaigns.

Sam Ball, the creative partner at Lean Mean Fighting Machine and a juror, said: "This is brilliant. It shows you don't need to be a great big organisation to do great work."

It was also a good showing for other UK agencies, both digital and traditional, with16 awards being handed out in total - eight gold, six silver and the rest bronze.

Winning agencies included Glue London with three golds, The Rumpus Room, Poke, Bartle Bogle Hegarty, Beattie McGuinness Bungay, The Viral Factory and Archibald Ingall Stretton.

DeCourcy said: "As the work becomes ubiquitous, it begins to sit in different categories, which means we have many different people putting work up. It's not just about digital creative technologists anymore."