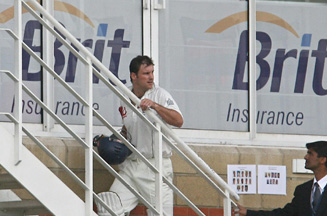 The insurance company replaces Vodafone and becomes the third shirt sponsor in the history of England cricket. The first sponsor Tetley's Bitter was replaced by Vodafone 12 years ago.
The four year deal comes into effect following the conclusion of England's 2009 winter tour to South Africa. The first time Brit Insurance will be seen on the England shirt will be during the team's tour to Bangladesh.

The sponsorship adds to Brit Insurance's presence in cricket, which already includes title sponsorship of the Brit Oval - the venue for the final Ashes test this summer - and broadcast sponsorship of Sky Sports coverage of the 2009 npower Ashes series.
The sponsorship adds to Brit Insurance's presence in cricket, which already includes title sponsorship of the Brit Oval - the venue for the final Ashes test this summer - and broadcast sponsorship of Sky Sports coverage of the 2009 npower Ashes series.

John Perera, commercial director at the ECB told Marketing: 'If you compare cricket to other England international teams it offers excellent media value for sponsors. The team plays around 100 days a year, while the England football and rugby teams play around 10-15 a year. It offers a huge amount of media exposure. Brit will use the deal as a major part of their brand awareness campaign.'
He added: 'It's great timing as we go into the Edgbaston test. It's a great fillip for the England team at a time when public interest is high'