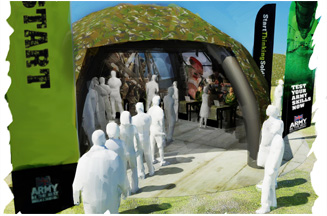 Following a COI pitch, the Army has tasked experiential agency Jack Morton with rolling out the two-pronged campaign to give 16-21 year olds hands on experience of being a soldier.
The Army's recruitment teams will use virtual reality headsets to show people interactive content highlighting skills such as helicopter navigation and observation tactics. The Army is rolling out the activity in ten regions, including a presence at the GameOn! exhibition at London's Olympia in June.
The second strand of the campaign will mimic the Start Thinking Solider missions, with arcade-style gaming 'pods' featuring real time graphics combined with real world video footage. People will have their mission performance logged via electronic wristbands and get 'debriefed'.
The Army's Start Thinking Soldier campaign, created by Publicis Modem and Skive, launched last month on TV and online. The campaign site has received 640,000 visits and 10% of visitors signed up for further information.
The second mission launches on 18 May with a 'decision making' theme.
Challenges in Mission 2 cover strategy, mortars, convoy, and fire and manoeuvre. Mission 2 asks the viewer to choose whether to navigate around an abandoned vehicle, send out a patrol, or to shoot at it. The user then needs to neutralise the enemy mortar positions and position the Mortar Fire Controller and mortar teams on a map.
The final and most ambitious piece of content is a fire and manoeuvre challenge which inter-cuts filmed sequences interspersed with user-controlled Flash content.
Last week, it was announced that the Army was nearing full strength for the first time in a generation with recruitment up 14% in the six months to March on the previous year. It is believed that it is a beneficiary of the recession.