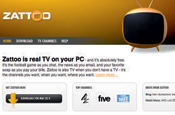 Zattoo's UK site, which launched last December, streams live TV content from the BBC, Channel 4 and Five, as well as other English-, French- and German-language TV channels. However, broadcasters have been incensed by what they describe as the complete lack of commercial return they have been offered.
A senior insider at one of the UK's leading broadcasters said that sites such as Zattoo were attempting to become substitutes for broadcasters' core businesses and that channels were being 'ripped off' in the process.
'Most of us have no problem with the internet delivery of television, but we expect a return for it,' he said. 'There is also a huge issue with the idea of people watching our stations for free on Zattoo as there is no way for us to monitor the views, because BARB is unlikely to recognise a site like this as a platform for some time.'
Zattoo gets the programming, which it retransmits simultaneously and in full, via feeds directly from the broadcasters' satellites.