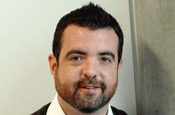 Brown will work with creative directors Andy Fowler and Steve Shannon, focusing his attention on digital and interactive work.

Fowler said: "Kevin's appointment means we can ensure that our approach is consistently driven by a central strategic idea rather than the medium and that digital executions are never treated as an add-on.

"It also means we can use our resources more effectively by creating digital, TV and print assets concurrently."

Before IPC, Brown worked as head of interactive, Virgin Media TV.