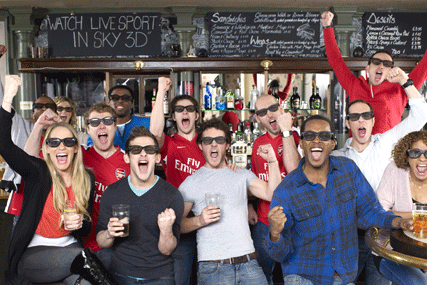 Sky will preview the new service, which it bills as the world's first live 3D TV sports broadcast, to a public audience this weekend.
The Premier League clash between Arsenal and Manchester United this Sunday will be broadcast to nine pubs across London, Manchester, Cardiff, Edinburgh and Dublin. The match will be simulcast alongside Sky Sports' conventional 2D HD coverage.
Brian Lenz, director of product design at BSkyB, told Media Week: "Our commitment is to a weekly match, with additional pay-per-view on some larger events as those opportunities present themselves. In the run-up to our residential launch, we'll increase our output to multiple events per week, adding other content such as movies."
Lenz added that BSkyB plans to introduce its 3D channel to consumers' homes "at the back end of the year". The channel will initially be free to subscribers of Sky's top package and the Sky HD pack but prospective viewers will have to buy a new 3D-ready TV set, which is unlikely to retail for less than £2,000.
Next month, Sky is hosting an event at Bafta where it will promote 3D technology and associated commercial opportunities to independent TV producers.
Sky is also liaising with other sports broadcasters to air 3D content, including Disney-owned ESPN, which is launching a 3D sports channel in the US this summer.
Lenz said: "We are in constant discussion with the 3D community. The sooner we move to a model of straight licensing of content, the better for all. The same is true for production and finance of content: we need to be able to exchange 3D content between territories, just as we do when buying in programming on Sky channels."
He added: "We see a great opportunity for the UK to set the pace in generating high-quality 3D content."