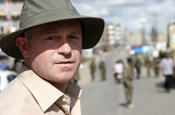 In March 2007, Sky One, Sky Sports News, Sky News, Sky Arts and Sky Real Lives (formerly Sky Travel) came off Virgin Media's cable platform, following a dispute over the amount Virgin was prepared to Sky for the channels.
The dispute prompted Virgin Media to take BSkyB to court, seeking a remedy. The absence of its basic-tier TV channels on Virgin Media has dented Sky's revenues and also hit Virgin Media's pay-TV subscriber growth.
During the first three months of 2008, Sky's earnings from customers watching its channels on rival pay-TV platforms (wholesale subscription revenue) fell by £26m compared with the same period in 2007, to £136m.
However, during presentations to certain media agencies at the start of the TV trading season Sky Media said it is hopeful of a deal that will see the channels return to the Virgin platform in the early part of 2009. According to a TV agency source: "We know it's not a done deal yet, but Sky must be hopeful that a resolution is near for the new year - otherwise it wouldn't be bringing it up with agencies at the start of trading."
Another TV agency source added: "It's definitely part of Sky Media's sales patter this year. It will argue that agencies can't cut their share with Sky Media, because it is expecting its impacts to go up when a deal is struck."
A rival sales house executive said: "Sky has been saying that these conversations have been going on for months and promised a resolution for a long time - but so far nothing has materialised."
A Sky spokesperson said: "We remain keen to agree a carriage deal with Virgin Media but it needs to be a fair price that reflects our investment in the channels."
A Virgin Media spokesperson said: "We're in ongoing conversations with Sky."