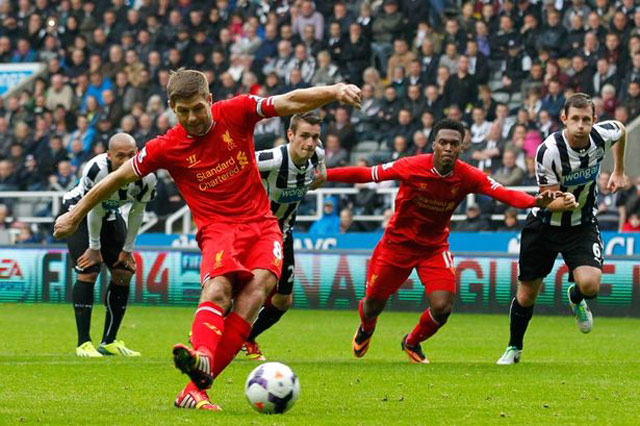 The broadcaster, launched at the start of the new football season in August, attracted an average audience of 492,400 and a peak of 832,000 for its Premier League clash, which ended in an action-packed 2-2 draw.

Audiences for the battle between two of the UK's best supported football sides eclipsed BT Sport's opening highs for its Liverpool versus Stoke City game, which enjoyed a peak audience of 764,000 and an average of 447,000.
The new viewing highs for BT Sport do not include the crowds of people watching the game in pubs throughout the UK, a metric currently not captured by the TV audience measurement body, Barb.
But it was not all good news for BT Sport during the weekend's coverage, after its main presenter, Jake Humphrey, upset former France and Tottenham Hotspur football star David Ginola. The French winger turned TV pundit was teased over his choice of attire – jeans and trainers by Humphrey. He responded moments later by making the 'w*nker' gesture behind the presenter's back, caught on camera.
This gesture was then repeated during BT Sport Sunday in jest by panellist Raphael Honigstein.
A spokesperson told Media Week: "We can confirm a couple of regrettable incidents took place on BT Sport this weekend. We immediately apologised on air for both and are now reviewing procedures to ensure such incidents do not happen again."
BT has long argued the success of BT Sport needs to be judged within the context of its wider business. And a better idea of the company's progress will be provided in BT's quarterly financial update next week, which is expected to reveal marked improvements for its pay TV customers numbers and consumer line numbers.
The telephone giant did attract criticism after it revealed in September many of its new subscribers to BT Sport will be hit by rises in fixed line rentals at the start of 2014. The company is increasing its standard line rental price by 3.5% on 4 January 2014, meaning standard line rental prices will go up from £15.45 per month to £15.99 per month. The telecoms giant is also upping some of its call rates by up to 6%.
However, the company continues to invest in its sports offering, which this season will show 38 exclusively live football matches from the Barclays Premier League, including 18 of the 'top picks'.
Earlier this month, BT Sport announced nine new fixtures to its upcoming calendar, including Manchester City versus Liverpool on Boxing Day.
BT Sport's upcoming Barclays Premier League fixtures
Saturday October 26: Crystal Palace v Arsenal - 12:45pm
Saturday November 2: Newcastle United v Chelsea - 12:45pm
Saturday November 23: Everton v Liverpool - 12:45pm
Saturday November 30: Tottenham v Manchester United - 12:45pm
Tuesday December 3: Crystal Palace v West Ham - 8:00pm
Wednesday December 4: Swansea v Newcastle - 7:45pm
Saturday December 7: Manchester United v Newcastle - 12:45pm
Saturday December 14: Manchester City v Arsenal - 12:45pm
Saturday December 21: Liverpool v Cardiff - 12:45pm
Thursday December 26: West Ham v Arsenal - 3:00pm
Thursday December 26: Manchester City v Liverpool - 5:30pm
Wednesday January 1: Southampton v Chelsea - 3:00pm
Wednesday January 1: Manchester United v Tottenham - 5:30pm
Follow @DurraniMix