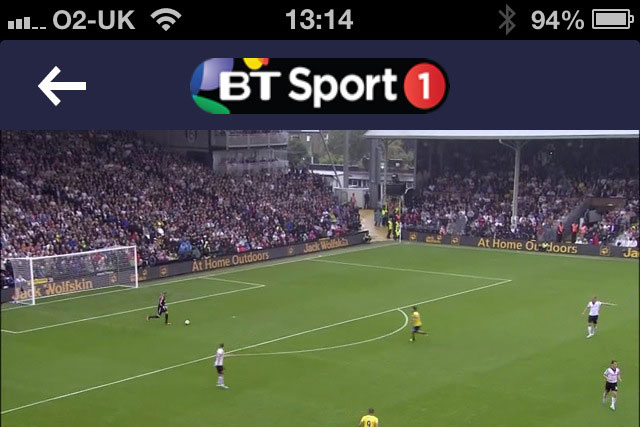 The BT Sports app enables BT customers to watch its three new sports channels via mobile devices. The app runs over 3G and 4G mobile networks and Wi-Fi connections, and is available for phone and tablet devices running Apple and Android operating systems.
Marc Watson, chief executive of BT TV, has confirmed that the million milestone is due to be passed in October – less than two months after its launch.
The app suffered an initial setback, when on 17 August, it was dogged by technical problems during BT Sport's first broadcast, and the first game of the Premier League season, Liverpool versus Stoke City.
Thousands of users were unable to log in to the app during the game, prompting hundreds of negative comments about the new sports broadcaster on social media.
The number of BT customers who watch via the app, rather than via traditional TV sets, are not currently captured by Barb's official audience reports. However, the TV body is in the process of adapting its methodology to capture such viewers.
The trend for people to watch online – whether via a PC, Mac or a mobile device, is growing, and broadband will be an increasingly important platform for television.
Watson said: "Television is changing thanks to broadband and that transformation is only going to get more dramatic as customers move to much faster fibre. It is clear that many customers are now watching online rather than via their TV sets and we hope that Barb will soon find a way to capture this important audience.
"The BT Sport app has proved to be a great success with our customers. More than a million homes will have soon downloaded the app and, whilst many of those can also watch via their TVs, there are literally hundreds of thousands of people who have chosen to watch exclusively online."
In an address at the RTS Convention last week, Watson also said there was plenty of room in the TV market for both BT Sports and satellite stalwart Sky Sports. He suggested the real battle from BT's perspective was for broadband customers, not TV viewers.
He said: "BT Sport is as much about broadband as it about TV. We are proud as punch of our channels – and the team who have delivered them in an amazingly short timeframe – but they are there first and foremost to entice new customers to take our broadband and to encourage existing customers to stay with BT.
"Some people think we are trying to win TV customers off Sky, but the truth is far more nuanced. There is lots of room for both Sky and BT in the TV space, but we are rubbing elbows in the broadband market."
Follow @DurraniMix