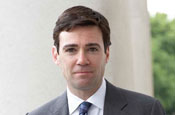 Speaking at a Department for Culture Media and Sport Culture Convergence Think Tank seminar, Burnham argued that, in the current TV environment, "there are some lines that we should not cross - one of which is that you can buy the space between the programmes on commercial channels, but not the space within them".

Burnham said there was a risk that product placement, currently banned under Ofcom's regulatory code, "contaminates our programmes".

"As a viewer, I don't want to feel the script has been written by the commercial marketing director," he said. "If Jim Royle gets out of his chair for a Kit Kat, I want to think, 'he fancies a Kit Kat' - not, 'Kit Kat my arse!'. If I thought it was because someone has paid for him to eat one, it would change the way I felt about the programme."

The Government, via the DCMS, is obliged by law to consult on legalising product placement on TV. European Union member states are required to do so by the Audio Visual Media Services Directive, by 19 December 2009.

Burnham told the Convergence Think Tank, set up to examine the implications of technological development for the media and communications industries, that he could "see the benefits of product placement and understand why people feel it is an inevitability given the pressures they are under".

But he argued: "There is a risk that, at the very moment when television needs to do all it can to show it can be trusted, that we elide the distinction between programmes and adverts."

His comments are likely to shock the advertising industry and broadcasters, who have been pushing for the legalisation of product placement as TV ad spend is fragmented among the mounting number of digital TV broadcasters.

Rupert Howell, ITV managing director of brand and commercial, said the broadcaster was pushing for product placement rules to be changed.

"Product placement adds to the authenticity of a programme, just as it does in films. The issue is sitting in Andy Burnham's in-tray and we would expect rules to come into effect next year."