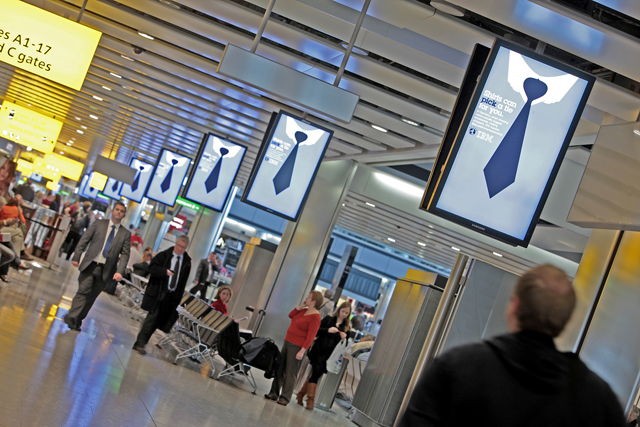 I always thought that one of the perks surely most indulged in by a senior business person would be the pleasure of having someone more travel arrangement-savvy than you in charge of your travel arrangements.
So, rather than being so concerned about making it to the airport on time that you find yourself on the 4:48am 'extraordinary express/freight train' to London Victoria craving the sanctuary of the Heathrow Express, you would receive a carefully fashioned laminated travel itinerary timed to perfection.
This travel arrangement angel's missive would send you from door to Heathrow Express, to Heathrow, to gate and on to plane with seamless co-ordination.
You would glide to your end destination pre-planned to perfection with every minute accounted for.
Turns out I was wrong.
JCDecaux Airport's Business Traveller research, conducted at the end of 2011, gave us a unique insight into business travellers - the influential.
We interviewed 515 regular business flyers, all of whom had used at least one JCDecaux Airport in the six months before the research was conducted.
We found out that making their own travel arrangements is one area where senior - and I mean elite C-Suite as well as upmarket business travellers - insist on exerting their influence.
These key decision makers are making their key travel decisions - hotel and flight - themselves. Sixty five percent of business travellers and 77% of C-suites book their own flights, and 71% of business travellers and 77% of C-suites book their own hotel.
I think we can probably work out why they do it like this, as well.
These key business decision makers want to ensure that their arrangements fit every one of their requirements, whatever they may be.
If they want to spend time at the airport before their flight - and most of them do: 45% of business travellers and 46% of C-suites arrive at the airport between two-to-three hours before their flight departs - they will.
Looking at the range of business and leisure activities they indulge in while at the airport, it could be argued that they value the 'me time' their travel provides them with, whether that is used for working or switching off.
They do spend some time working, but the most regular activity - carried out by four-fifths of both business travellers and C-suites - is reading newspapers and trade journals, using the time to catch up on industry activity which time pressure in the office will often deny them the chance to do.
In terms of leisure activities, it's all about indulging in some quality 'me-time': 56% of business travellers and 49% of C-suites 'spend time relaxing', and over a quarter of C-suites and a third of business travellers 'try not to work'.
Our research also busted a myth about business lounge use. Sure, they spend time there, but they're certainly not shut away throughout their time at the airport.
Fifty five percent of business travellers and 56% of C-suites either browse retail areas before going to the lounge, or leave the lounge early to get some shopping in.
And they don't just spend time, they also spend money.
Over 80% have bought reading matter while two-thirds have purchased fragrance and beauty products.
The purchase of high-value goods is also a distinct possibility: a third of C-suites and almost a third of business travellers have bought jewellery or watches at the airport.
Sixty eight percent of both audiences use their personal credit card while shopping at the airport, suggesting that they see it as a great opportunity to rack up airmiles and loyalty points as well as indulge themselves, friends and family members.
It just goes to show that you can't assume anything, a favourite mantra of mine.
It also more importantly proves that these high-value consumers do a lot more than work in the airport environment.
For them it is a rare time when they can make an effort to be free from pressure, and actively seek information and distraction.
Liz Ross Martyn, head of marketing communications, JCDecaux Airport