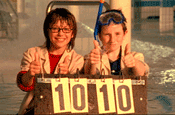 The review is in its early stages, with a decision expected by the end of the summer.
The successful agency will take responsibility for the company's direct communications, aimed at encouraging new and existing customers to book holidays at its three UK resorts in Bognor Regis, Minehead and Skegness.
The brief will encompass traditional direct marketing, as well as press, inserts and direct TV campaigns.
Butlins currently works with the direct agency Fox Kalomaski, which secured the below-the-line account from CMW in October 2006.
Butlins' relationship with RPM3 Beechwood, which created a £7 million TV campaign that featured in the run-up to Christmas 2007, is not affected by the pitch.
The review follows a number of changes to Butlins' marketing arrangements. Earlier this week, the holiday operator shifted its brochure-publishing business out of Publicis Blueprint and into August Media, which will now produce its 2009 family holiday brochures.
In April, Butlins also appointed the online marketing agency RedEye to handle its email marketing.
The holiday company launched 72 years ago and currently caters for around 1.3 million visitors per year at its three resorts.