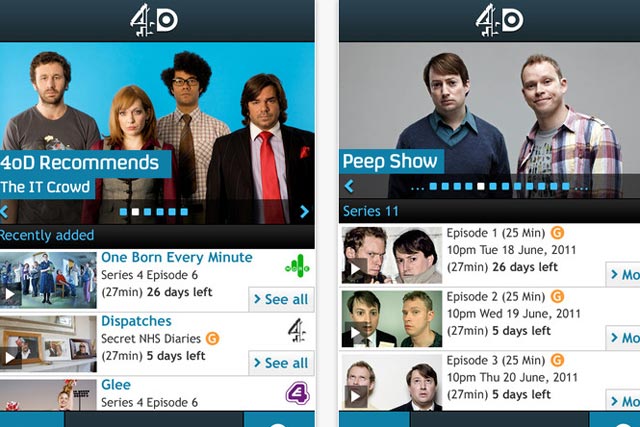 The previous version of the app, which was launched earlier this year, was only available to iPad users. The new version, which like its predecessor was designed by the Nice Agency, allows iPhone users to use its service via a Wi-Fi connection.
The application also features a new search function that makes it easier for users to navigate content on 4oD. The new search feature also makes its debut on the iPad app.
Peter Dolukhanov, Nice Agency's joint managing director, said: "Thanks to the iPhone's Retina display, the quality of the video image was never going to be a problem.
"The screen size did, however, pose the challenge of how to transfer the look and feel of the iPad and desktop experience to the iPhone's 3.5-inch display, while ensuring that the app is quick and easy to navigate."
The launch of the new app comes just two days after Channel 4 revamped 4oD on Channel4.com.
The 4oD revamp added a predictive search and viewer-driven recommendations, to improve the discoverability of content, and My 4oD, where registered users can access a number of enhanced elements.
The extras available through the personalisation service include: creating playlists of episodes and scheduling an evening's viewing; a comprehensive history of what has been viewed; saved favourites, and remainders about new episodes of favourite shows.
In addition, the 4oD player has been redesigned so that users can now discover related and viewer-recommended shows, and access a range of options without having to leave the full-screen mode.
The broadcaster revealed that 215 million long-form videos had been viewed on the player in the first half of 2011, across all platforms.
Channel 4 was the first broadcaster to launch a video-on-demand service, in 2006, and 4oD, as a commercial VoD platform, is now available online via YouTube, iTunes and on TV platforms via Virgin Media, BT Vision and TalkTalk.
In December, Channel 4 also secured a deal to put 4oD on Sony's PlayStation 3 games console.