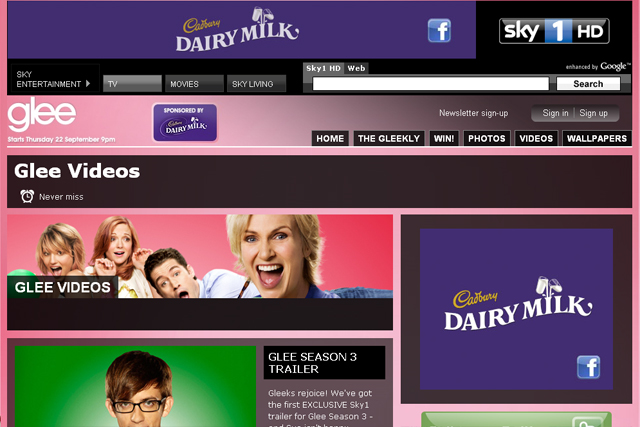 The sponsorship deal includes idents featuring Brits showcasing their performing talents, and Dairy Milk's logo will be featured in all online promotional trailers for the show that exceed 20 seconds.
Glee's previous two series have been broadcast in the UK by Channel 4 digital channel, E4.
Dave Shore, head of sponsorship at Sky, said: "Glee will give Cadbury a unique opportunity to associate itself with one of the best shows on global television across multiple platforms."
Matthew Williams, marketing activation director at Kraft Foods, said: "Our sponsorship of Glee is a fantastic opportunity to engage people with our new campaign; Keep Singing, Keep Team GB Pumped which, like Glee, uses singing to bring people together to support our potential Team GB athletes in a joyful way.
"Cadbury's integrated campaign will include television, events and digital media, with extra support on-pack and in-store, rallying the British public to keep singing."
The deal was brokered by media agency PHD.
Cadbury launched its Spots v Stripes campaign last year as part of a drive to increase public interest in competitive sports ahead of the Olympics.
Sky is promoting Glee by becoming the first UK advertiser to use Twitter's Promoted Tweet ads.