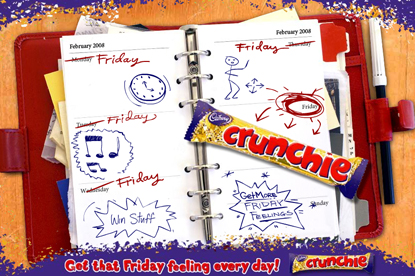 The giveaway is supported by animated online ads by Clusta highlighting the downsides of other days of the week such as rain and traffic-jams.

The creative then transforms from grey to full colour on Friday with the tagline: "Win that Friday feeling."

The ads click through to the Crunchie website www.getthatfridayfeeling.com where the first 500 people to enter their detalls receive a free Crunchie bar.

The campaign and competition launches this Friday. The offer runs every Friday until 30 October.

Katheryn Sutcliffe, the head of client services at Clusta, says: "Promoting the giveaway and bringing the concept to life called for ads that really connect with the audience.

"As a result, we have created an amusing and impactful campaign to increase the visibility of the brand in the digital space."
Ross Farquhar, the brand manager for Crunchie, said: "At this time of year, people look forward to the weekend even more so we wanted to help celebrate that Friday feeling with Crunchie fans.

"Clusta has created an engaging campaign to capture people's attention, generating excitement about the brand and helping to boost Crunchie's great association with Fridays."